Mutton Pickle Recipe is a Hyderabadi spicy mutton pickle made with boneless mutton pieces and it has got all the flavours of pickle and is also called gosht ka achar in Hyderabad. The word pickle itself makes us feel that the whole process is quite taxing and lengthy but the procedure is not that difficult and the achar can be stored for a couple of days.
Check out some more interesting recipes with mutton or lamb below :
There are few mutton recipes that are tried with boneless meat and apart from this dish another delicious recipe is keema recipe.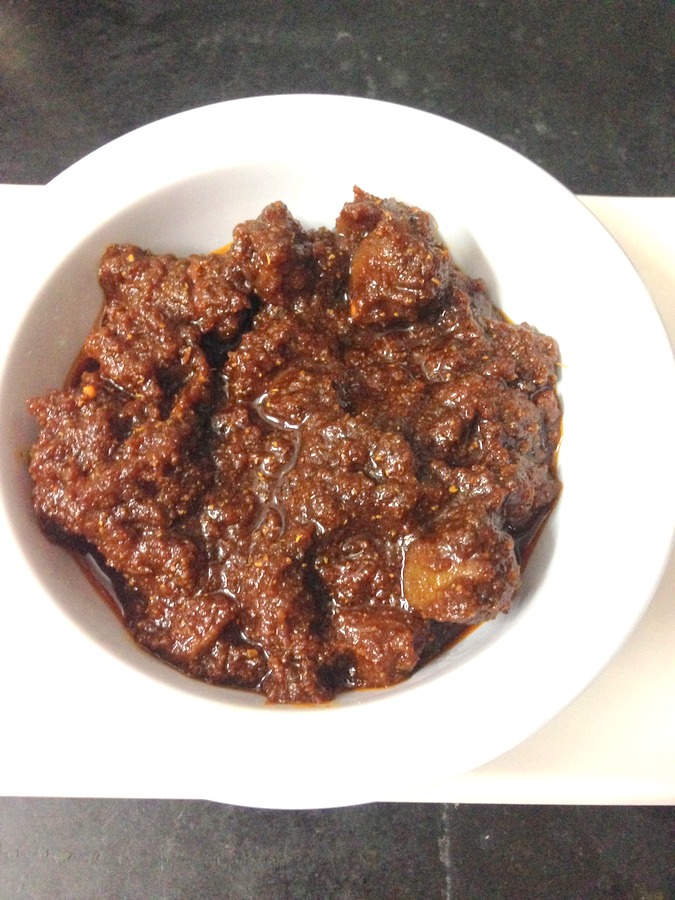 About the recipe
The achar or pickle is totally mouth-watering and Indians love achar the most and so do I. Pickles are something that can be eaten along with plain dals and pickles work as a great combination with rice and dal.
Mutton pickle is very special as it is a hyderabadi dish and Hyderabadis make this pickle and store for a couple of days to eat with rice and dal.
The dish does not require too many ingredients and is a spicy dish and spicy flavor can be adjusted according to our needs and has got the flavor of any regular achar.
Achar can be made in large quantity but, especially the gosht ka achar will not last for long as it gets completed very quickly. The recipe requires mutton which should be totally boneless and the process is quite simple.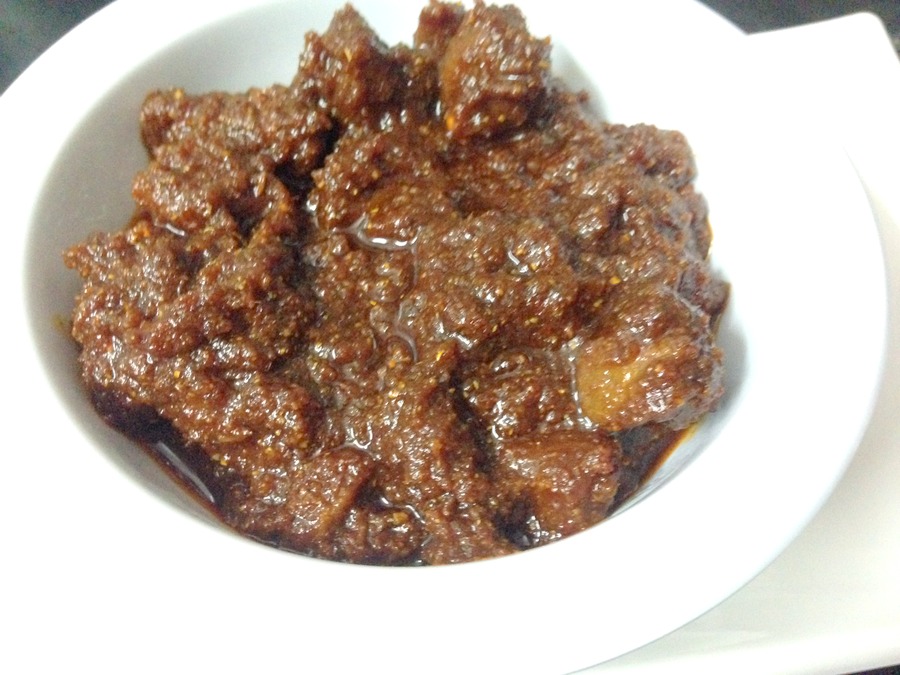 There are various kinds of achar and every achar is special and tasty. Pickles can be made with vegetables and also with mutton and chicken.
I suggest to try this recipe with less quantity of mutton and then try it out with large quantity of mutton. Mutton pickle simply tastes amazing and irresistible.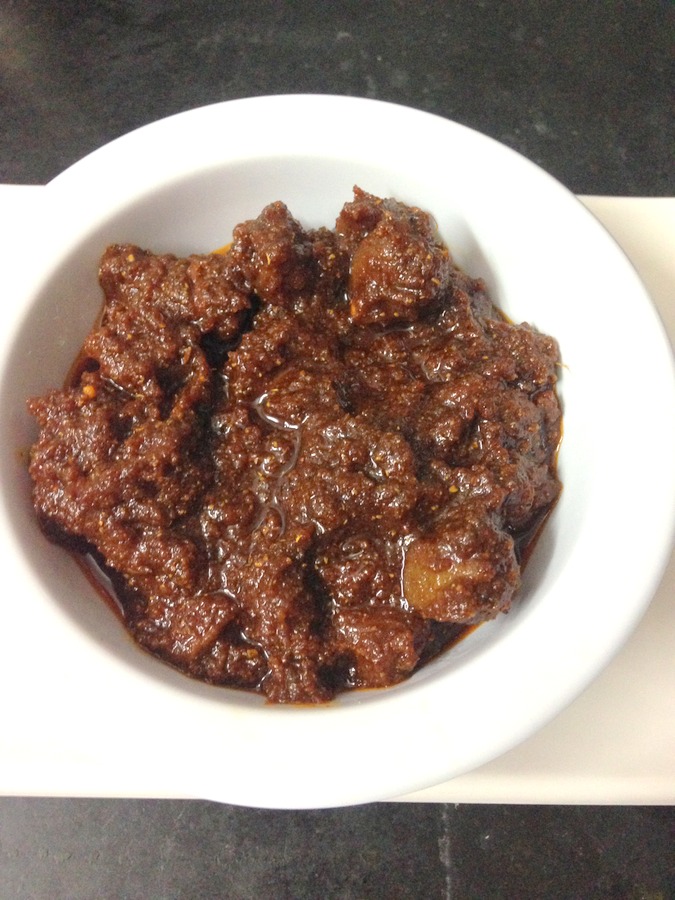 I would like to share mutton pickle recipe with my readers and would be glad enough to receive feedback.
Tips
When meat or mutton is used, never use mutton with bones. Always use boneless mutton that is fresh.
Make small pieces of the meat and not very large pieces.
Wash the meat well and cook the meat until there is no water remaining.
There should not be any water content present after cooking the meat. Therefore, the mutton is roasted in oil to get rid of any tiny amount of water in it.
The masala when mixed with the mutton should be of proper proportion to avoid any sort of bitter taste due to excess adding of the spices such as methi powder or kalonji powder.
Here in this recipe, I have used onion seeds powder, but one can add the mustard powder in place of onion seeds/kalonji/nigella seeds.
Recipe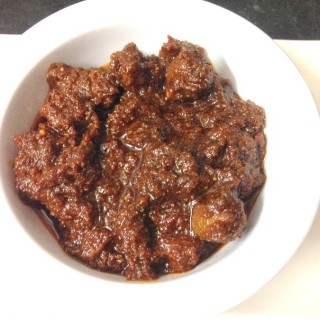 Mutton Pickle Recipe, Gosht Ka Achar
Mutton pickle recipe or gosht ka achar made with boneless mutton pieces
Ingredients
500

gms - boneless meat/mutton pieces cut into small cubes

salt to taste

1

tablespoon

turmeric powder/haldi powder

2

tablespoon

ginger garlic paste

½

cup

water
For Dry Roast:
½

teaspoon

fenugreek seeds

(methi)

½

teaspoon

cumin seeds

(zeera)

½

teaspoon

onion seeds

(kalonji)

½

teaspoon

coriander seeds

(dhaniya)
Other ingredients:
2

tablespoon

red chilli powder

2 ½

cups

of oil /

(¼th litre oil)

5 - 6

lemon extracted juice

3 -

garlic pods medium size
Instructions
Firstly dry roast methi seeds, cumin seeds, onion seeds, coriander seeds for few seconds, cool them, blend them into a fine powder and put it aside.

Also make garlic paste and put it aside for later use.

Wash the boneless mutton pieces very well.

Take cooking vessel, add mutton pieces, add salt as per taste, add turmeric powder, add ginger garlic paste, half cup water.

Stir the mixture and cook it for about 25 to 30 minutes until there is no water remaining in it.

Take a wok, add oil generously and heat it.

Add the roasted mutton into the oil and fry the mutton until the mutton turns golden reddish color.

Add red chilli powder and mix well.

Add the blended powder of roasted methi seeds, cumin seeds, coriander seeds and onion seeds.

Add garlic paste into it.

Add lemon extracted juice generously into the cooking mutton.

Mix well and cook until oil appears at the corners on sim flame.

Do not overcook as the masala may stick to the base.

Switch off the flame.

Let the pickle cool for a while.

Transfer the pickle in an air tight container and store it in refrigerator.
Notes
If oil appears to be less then heat oil as per your requirement and add it to the pickle.
Store the mutton pickle in the refrigerator.
The pickle can last fresh for about 15 days.
Be careful while the masala is getting cooked as cooking on high flame may burn the masala.
To sum up the pickle one can add tempering to it.
Take a tadka pan, heat oil, add cumin seeds, mustard seeds, dried red chillies, fresh curry leaves, garlic cloves, add ginger garlic paste and saute well. This tempering can be added and mixed with the pickle which makes the pickle even more delicious.
Here in the pickle we have added garlic paste to get a slight gravy but this ingredient can be totally skipped according to one's choice.
This pickle lasts for at least 20-25 days if stored airtight in a glass jar and if kept in refrigerator. The pickle should not be touched with any wet spoon or wet fingers which could spoil the pickle completely.
Nutrition
Nutrition Facts
Mutton Pickle Recipe, Gosht Ka Achar
Amount Per Serving
Calories 600
* Percent Daily Values are based on a 2000 calorie diet.