Palak gosht is a Hyderabadi special curry made by mixing mutton with palak. Spinach is commonly called palak and it has an amazing number of ways to make use of it. This is a Hyderabadi special palak recipe and in Hyderabad usually, vegetables are not cooked plain and mutton is always added to every vegetable made.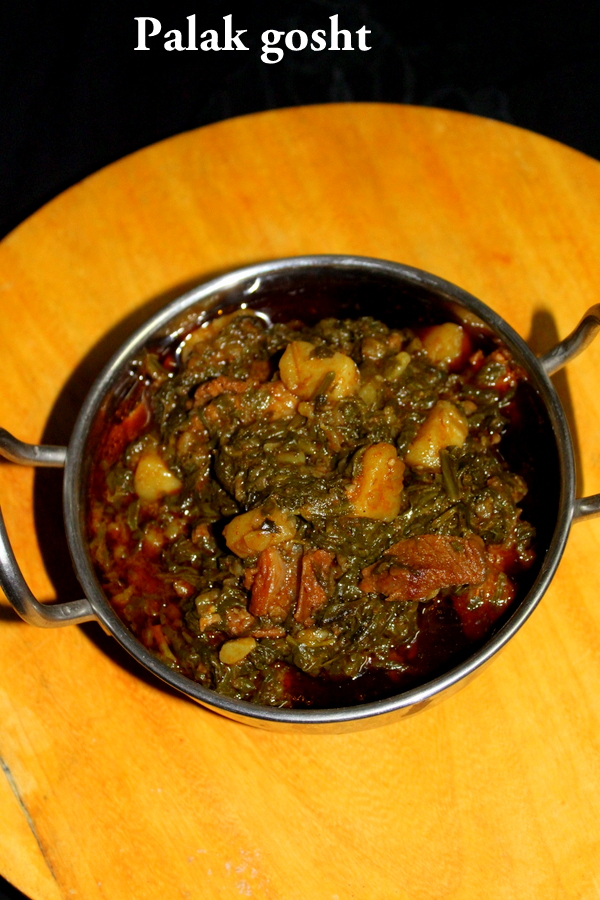 It is used in salads, curries, parathas, snacks etc... I have used palak and made some recipes on my blog such as palak roti, palak dal, palak pakoda , palak paneer etc... and would like to add many more palak recipes and hopefully with a video.
I would also advice some mutton to be added to any vegetable which gives a good taste to the curry and it is the commonly used method in hyderabad.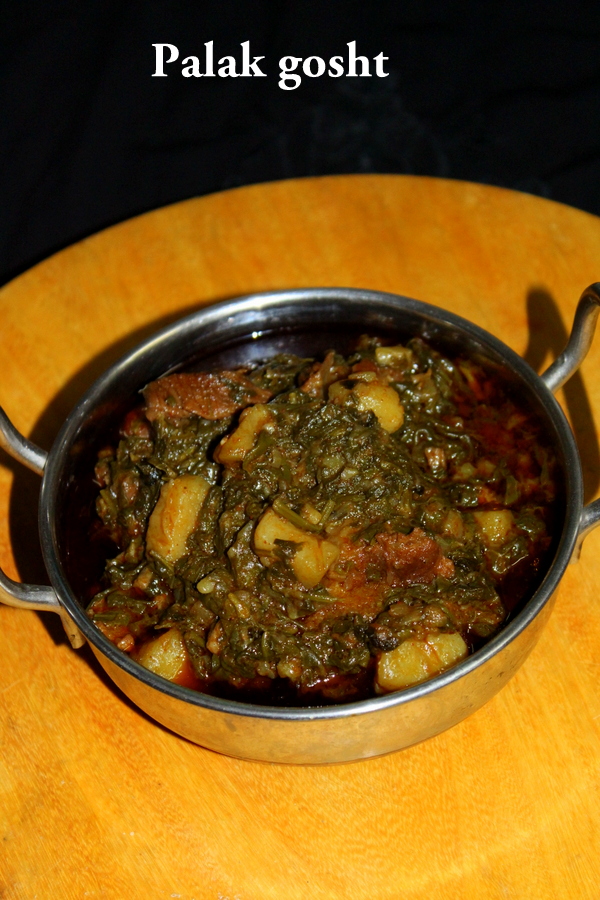 Here, I have used pressure cooking technique to cook the mutton, and then added palak leaves and aloo to the mutton and cooked until the leaves get soft by pressure cooking method.
I suggest palak to be included in our diet and it is must to have it very regularly as green leafy vegetables are good for health.
Palak has got huge health benefits and it is very rich in iron which is an essential element for our body.
Eating it in any form is advantageous for our health like one can make it as a soup or it can be made as a smoothie which is a very healthy option to have them in the form of soups and salads.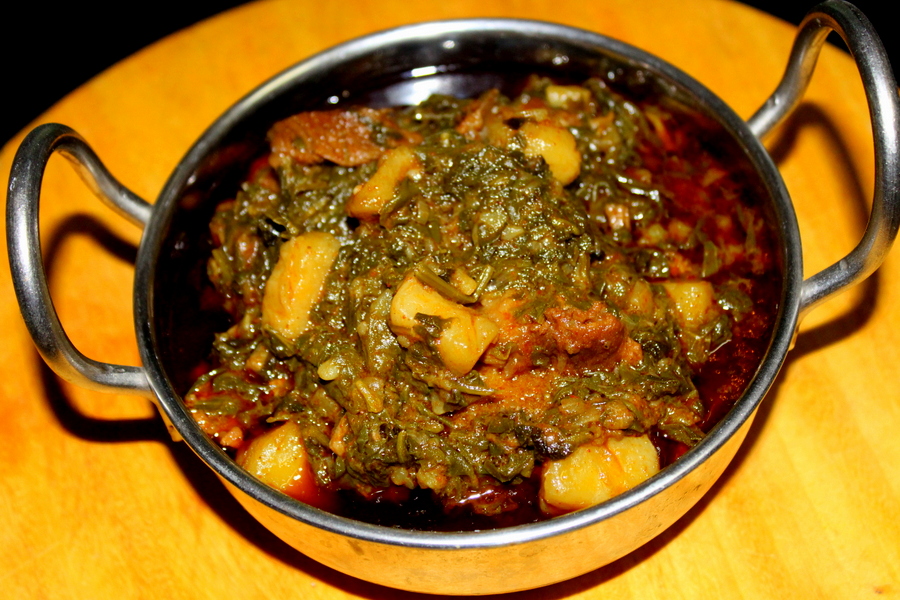 In Hyderabad we make many curries with vegetables or lentils but it is must that mutton/meat is added to it like I have made dalcha recipe, mutton dalcha, bhindi gosht etc... which have mutton mixed in these curries.
Here in this recipe, I have added few potatoes/aloo too to make it more interesting and this combination is liked by most of the hyderabadis and if not interested then, aloo can be skipped.
However, all the recipes that are made by adding mutton into them do not require to add meat or mutton and they can be made plain without adding meat.
But adding meat helps in eating with rice too and there is no need of other dishes to be served along with rice. Having plain rice and palak gosht is enough for a complete meal.
I have written below in detail on how to make palak gosht with detailed instructions. Hope my blog readers like it and would be glad enough to post more such veggie recipes combined with meat as I continue writing down recipes.
How to make palak gosht:
Recipe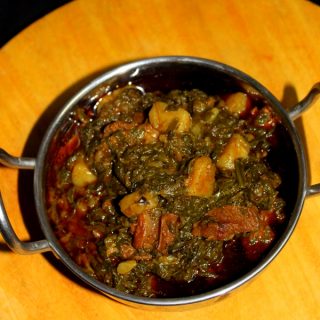 palak gosht recipe hyderabadi
palak gosht is a mix of palak and mutton and it is made in the form of curry that can be easily served with roti or rice.
Ingredients
To tenderize mutton/gosht:
2

tablespoon

oil

1

onion

finely sliced

salt to taste

½

teaspoon

red chilli powder

¼

turmeric powder/haldi

½

teaspoon

ginger garlic paste

250

gms mutton/gosht

1

cup

water
Other ingredients:
10

bunches of palak/spinach leaves finely chopped

2

potatoes/aloo peeled and cut into cubes

1

onion

finely sliced

2

tablespoon

fenugreek leaves/methi leaves or ½ teaspoon kasoori methi

2

tablespoon

coriander leaves/kothmir leaves finely chopped

salt to taste

½

teaspoon

red chilli powder
Instructions
Firstly, take a pressure cooker, into it add oil and heat it.

Add finely sliced onions, add salt to taste and saute until the onions get soft or until they turn into very slight golden color.

Add ginger garlic paste and saute on low flame until raw smell goes away.

Add the mutton, mix well and cook for about 5 minutes or until the color of the mutton changes.

Add red chilli powder, turmeric powder, saute for few minutes on low flame and then cook it for about 5 minutes on low flame.

Add approximately 1 cup water into the mutton, mix well.

Cover the lid of the pressure cooker.

Pressure cook the mutton until it gets tender or soft.

Reduce the steam.

Open the cooker lid.

Add the finely chopped palak leaves, add potato cubes, add methi leaves, coriander leaves.

Mix everything well.

Cook on low flame until the palak leaves combine together and gather together.

Add some salt if required and also add red chilli powder, mix well.

Cook for 2-3 minutes.

Cover the pressure cooker lid.

Pressure cook for 3 to 4 whistles.

Reduce the steam.

Remove the lid.

If the curry is watery cook for few minutes by keeping the lid opened.

Cook it until water gets absorbed.

Switch off the flame.

Serve hot with rice or roti.
Notes
1.Here I have added palak to the cooked mutton and pressure cooked to make it easy and quick.
2.If one is opting for another method then, cook the mutton and palak separately and later mix them both and cook for few minutes to get the perfect taste.
3.Here I have used cooker to cook the curry to make it quickly and yet maintain its taste.
4. I have added aloo too into the curry but it can be skipped if not required.
5.If one does not have methi readily available then it can be skipped but adding methi gives an amazing aroma to the curry.
Nutrition
Nutrition Facts
palak gosht recipe hyderabadi
Amount Per Serving
Calories 310
* Percent Daily Values are based on a 2000 calorie diet.