---
Tulsi tea, a tea prepared by a holy leaf which is commonly called holy basil is a very powerful tea and ingredient that cures many ailments and is a miracle medicinal leaf. Tulsi in Sanskrit is referred to as Tulasi. This article is all about using tulsi leaves for people with gain in weight and looking for simple homemade solutions to lose that unwanted fat.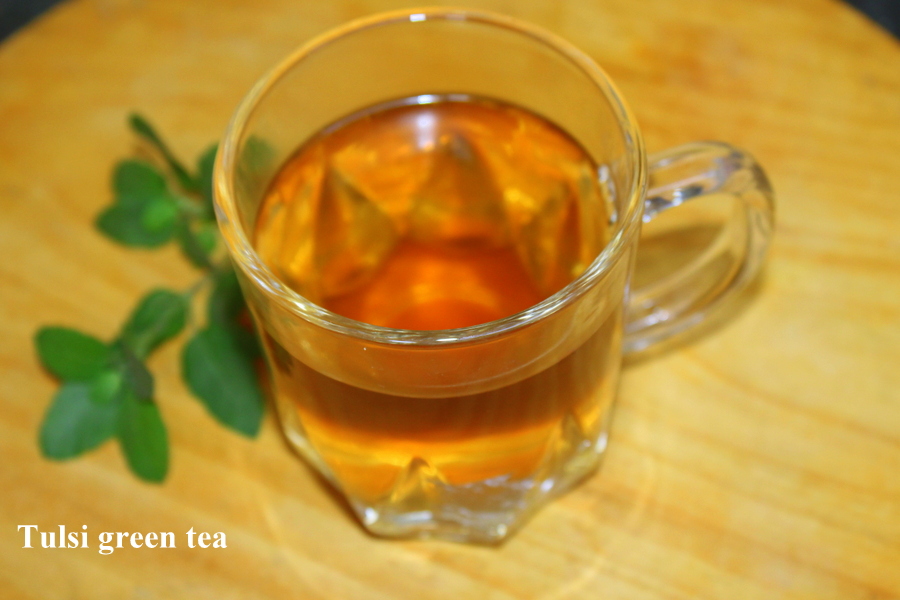 Also check out some of the healthy drinks mainly on fat loss from the blog such as nimbu pani, ajwain water, a drink for losing weight as well as check out karela juice, sabja seeds, black coffee etc...
How does tulsi appear:
Tulsi leaves are green in color which give out a very strong smell and aroma and has many medicinal values.
The tulsi comes out as a shrub and herbal leaves. The flowers of the shrub blossom out in reddish purple color.
Tulsi is usually placed in a holy pot in every courtyard or a garden of people belonging to hindu religion and prayers are offered to the plant by them.
It is believed to be a very sacred plant and it also gives out seeds which are useful in ayurvedic medicine.
What is this article about:
In this recipe article I would like to share a simple yet effective remedy that quite works well for weight loss as well as helpful to treat other minor ailments.
Mainly my article helps in treating weight loss with tulsi leaves by making it as a tulsi tea.
This article gives you tips on how to lose weight by using tulsi and honey which is a very powerful and effective home remedy.
There are many benefits of using holy basil or tulsi in our daily life.
Growing this plant in every garden is what I would suggest as these holy leaves have got plenty of uses and benefits that can be used as daily home remedies for treatment of various ailments without the need to go to the doctor for minor health issues.
The benefits and uses that I will be sharing are for general purpose only and should always be followed only after consulting a specialist.
These tulsi remedies and uses are effective for both kids and adults depending on how they are effectively utilized.
What is tulsi green tea?:
Tulsi tea is a naturally made green tea recipe.
We all are aware and have come across green tea and its benefits for the body.
Green tea is usually prepared by making use of herbs that have great medicinal usage and herbs that are organic.
Nowadays, green tea sachets are readily available in every grocery store and it is available in loose packing as well as in sachets and these sachets are made in such a way that one cup of tea uses one green tea bag.
These green tea bags are available in various flavors such as ginger , honey, lemon and so on....
Pick up the flavor that is liked the most and use it in making green tea.
Tulsi green tea has tea powder made using dried green leaves and the leaves are completely organically grown, crushed and packed by processing.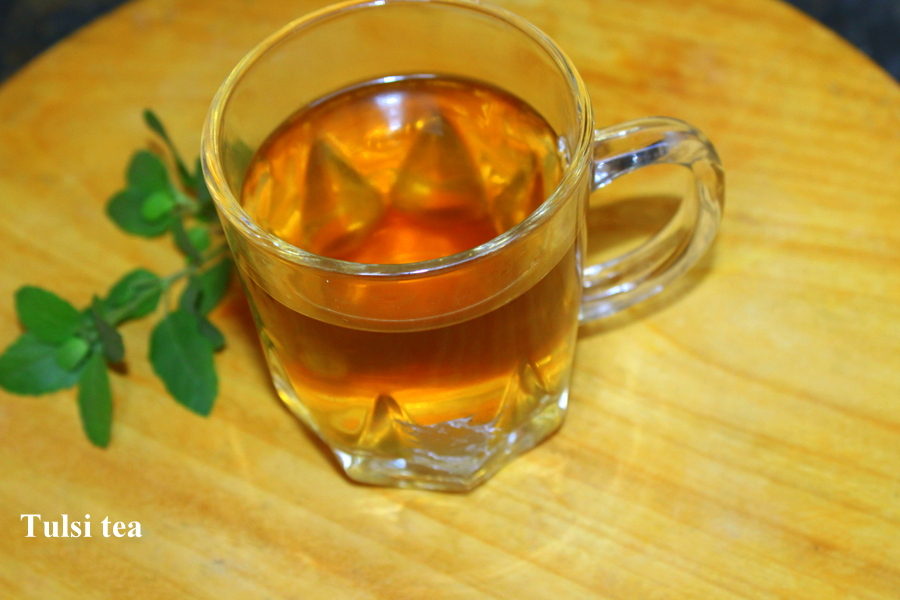 Below are some of the health benefits/advantages or uses for using tulasi tea:
Tulsi green tea or tulsi tea is a tulsi flavored simple tea which instead of consuming plain is mixed with water, boiled, strained and served with honey unlike the ready made green tea.
This drink has many advantages for a human body.
It detoxifies our body and flushes out all the toxins from the body if consumed frequently.
It also acts as a great stress buster and helps in getting rid of any anxiety disorders.
The main purpose of writing this article is to show that this tulsi tea works wonders in burning down the excess calories from the body.
It is much better than drinking tea or coffee kind of stimulants which negatively affect the body.
It controls the cholesterol and sugar levels of the body.
How tulsi or basil is effective and some of the ways it can be used:
It is used in many recipes such as pizza toppings or while making sauces out of tomatoes.
It is used in many recipes ranging from Italian and Mediterranean cuisines.
It acts an anti-aging leaf and its leaves if chewed or eaten helps us in giving a fresh young look.
It prevents heart related problems and mainly it protects and prevents us from cold and cough and kids are usually given tulsi by mixing it with ginger or honey to cure cold, cough and fever, headaches, skin problems etc.
It is also believed to remove kidney stones if the leaf is consumed regularly.
Growing the plant in the kitchen gardens gives us a fresh feeling and inhaling oxygen from such plants is a bliss to life and something that gives a fresh and healthy start to the day.
Dry coughs, stomach aches and many more ailments are treated by applying simple home remedies of crushing basil leaves and mixing them with either lemon, ginger, black pepper, honey and giving to kids and adults to cure simple ailments at home.
Every part of tulsi plant and herbal leaf is useful in medicine and ayurveda medicine uses it more to cure ailments naturally.
Just plucking the leaf, washing and chewing it is very helpful in keeping all the common ailments away.
BEST TIME TO DRINK TULSI GREEN TEA:
Tulsi tea can be had in the mornings and it can be taken before or after the meals.
It can also be taken during evenings as well as few hours before going to sleep.
It can be consumed between meals as well.
The frequency of this drink should not be more than 2 times a day.
Just drink it once or twice a day and if planning to lose weight then follow this tea for a couple of months.
Since metabolism is down early in the mornings and in the evenings, it is better to have during those times as it picks up the slow metabolism rate in the body and energizes the body.
It acts as a detoxifier, rich in antioxidants, detoxifies the body and hence preventing unwanted fats deposited inside the body and helps keep weight in check.
Below is a simple recipe card for making tulsi tea...do have a look and share us your feedback...
Tulsi tea recipe making below:
Recipe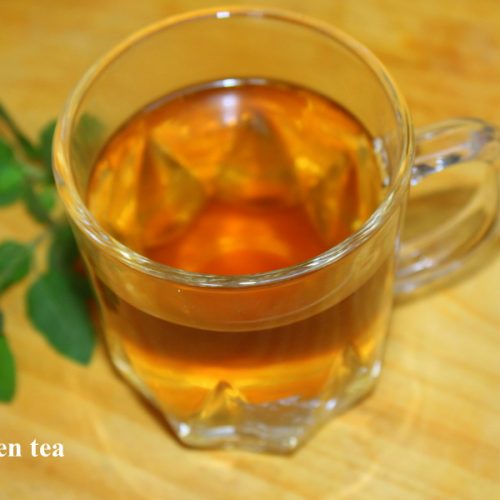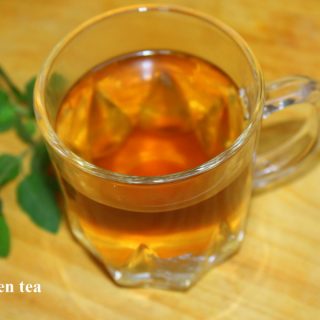 tulsi tea recipe, tulsi leaves for weight loss | tulsi green tea
An effective drink that aids in cutting down bad cholesterol.
Ingredients
15-20

fresh tulsi leaves/ holy basil

1

glass of water

1

tablespoon

honey
Instructions
Take a sauce pan, add a glass of water.

Add the holy basil/ tulasi leaves into the water.

Bring the water to a boil.

Slow down the flame and let it boil on sim for at least 10 minutes or until the green leaf releases all its juices into the water completely.

The water turns brownish green in color after the water absorbs all the flavors of the basil leaf.

Switch off the flame.

Cool it down until it turns lukewarm

Strain the drink into a glass.

Add a tablespoon of honey into it.

Stir well.

Enjoy between meals to purify the stomach.

Please read the article to know about the best time to drink this tea.
Notes
One can add few drops of lemon as well if needed.
Not only weight loss but tulsi tea relieves us from cold, cough and fever as well.
Nutrition
Nutrition Facts
tulsi tea recipe, tulsi leaves for weight loss | tulsi green tea
Amount Per Serving
Calories 64
% Daily Value*
Sodium 1mg0%
Potassium 11mg0%
Carbohydrates 17g6%
Protein 1g2%
Vitamin C 1mg1%
Calcium 1mg0%
Iron 1mg6%
* Percent Daily Values are based on a 2000 calorie diet.
Important note: Please consult the doctor before following any of the home made remedies or tips from this blog as these information is only for general purpose only and not provided by experts.
These tips work to certain extent and also depends on body type. Never follow these tips while suffering from any major health issues and also do not follow them during pregnancies.