Poori also spelled as puri, is a popular breakfast recipe across south india. it is a small disc shaped bread that is deep fried in oil and served with potato curry, potato kurma or potato masala.
I have also shared a video procedure to help the understanding process of poori making in a better way.
Other breakfast or tiffin related recipes:
It is a highly selling breakfast dish in southern parts of india. It is usually made with either wheat flour or maida or using both the flours.
In every hotel or tiffin centre of south india we can find pooris served on the breakfast menu and its such a delicious dish but one can stay away if they are health conscious as these are deep fried in oil.
This is a very simple recipe if proper tips and tricks are followed.
The main ingredients to make breakfast poori are wheat flour, oil, salt and water. Here in this recipe I have added sooji or rava or semolina which helps us in making a perfect puffy poori.
The poori which I made here is absolutely soft and puffy and this can be achieved without any difficulty just by following few steps and not complicating the making procedure.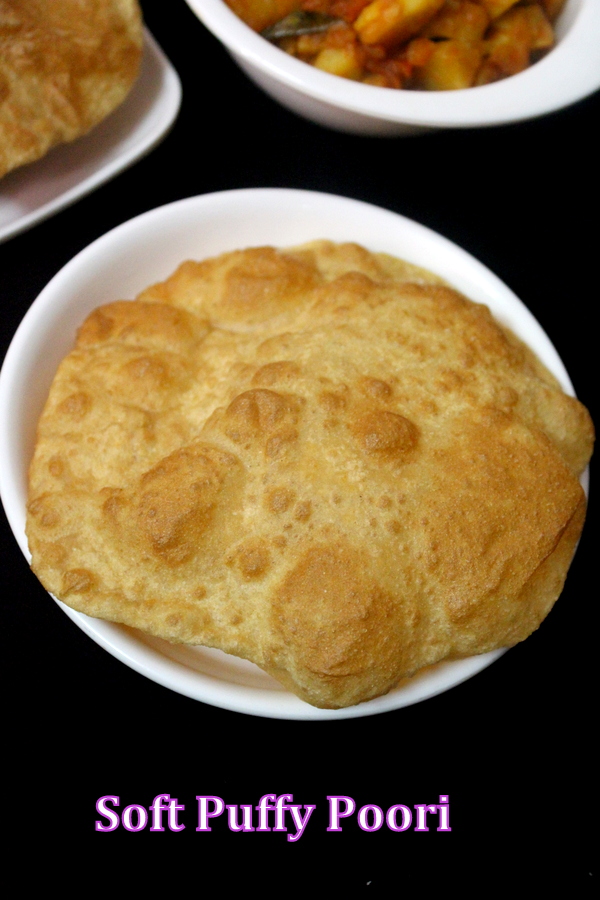 There are slight variations in making poori and those are nothing but some like to knead the dough with milk instead of water and that option too gives us a soft poori….