Ambur mutton biryani is a rice dish or rice biryani from a town called Ambur in the Vellore district of Tamil Nadu. Since this is a rice delicacy it can be served with Mirchi ka salan or bagara baingan. The mutton biryani from Ambur is known widely as the star biryani recipe as the biryani from star hotel is widely known.
Ambur mutton biryani and ambur chicken biryani are not only a popular dish across Ambur town but various other dishes like chicken varieties and other non-veg varieties too are known over there. When we talk about biryani recipes there is a difference in the biryani making procedure of Hyderabad and Ambur.
Related Biryani Recipes: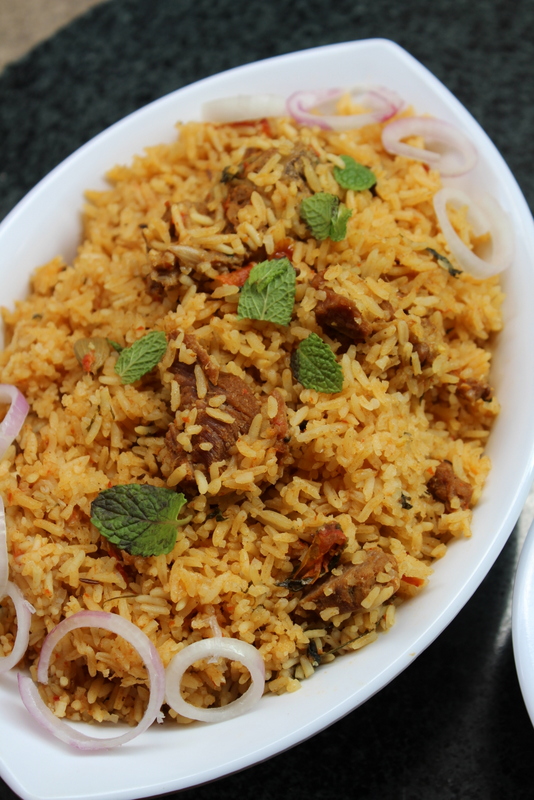 Ambur biryani is almost similar to the tehri recipe which has been posted earlier but the difference is here we need to use red chilli paste instead of powder and the biryani can be eaten with just plain raita or korma.
This biryani recipe is an adaptation of the biryani from the town of ambur and I have made slight changes according to the needs of the usual biryani and the outcome is just awesome. Other south Indian mutton recipes are mutton sukka and mutton kulambu.
I love trying out various biryani recipes from different regions of India. But if one is looking for Hyderabadi special biryani made with mutton then do check out mutton dum biryani recipe Hyderabadi style and Hyderabadi mutton biryani recipe.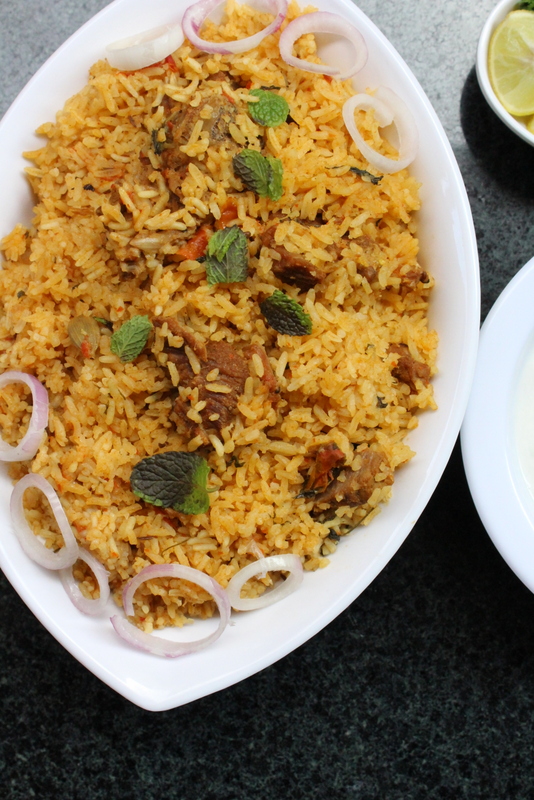 When I tried this recipe I was very confident of the outcome as it is almost similar to my tehri recipe but I really loved the color of the dish and the color of the dish is natural without any artificial food colors added into it.
This biryani is quite popular over there and most people love the biryani from a hotel called as 'star hotel' in Ambur town. This biryani is popularly called a star biryani recipe.
The recipe is totally different from Hyderabadi biryani but the common part in both kinds of biryani is giving dum. Ambur mutton biryani takes lots of onions and tomatoes, red chilli paste but Hyderabadi biryani does not take any of those ingredients and onions are added in the form of fried onions.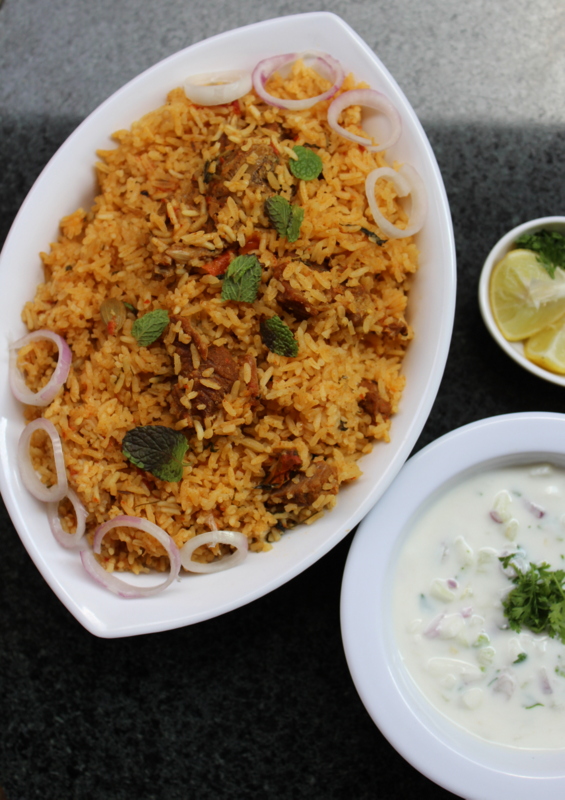 Ambur biryani requires not many spices as Hyderabadi biryani requires but here, I have added few ingredients and adapted and it tastes amazing...
The Ambur biryani uses seeraga samba rice which is mostly found in Tamil Nadu but here I have used normal rice instead of seeraga samba rice to make the ambur biryani and it still tastes awesome.
Below are the recipe details for the star biryani recipe from Ambur...
Recipe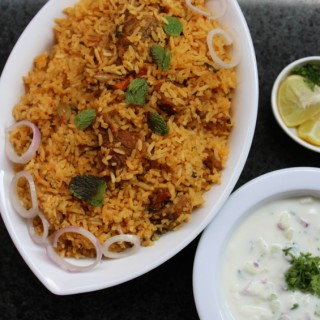 Ambur Mutton Biryani Recipe
Ambur mutton biryani recipe is a popular biryani made with onions, tomatoes, yogurt and spices in dum style.
Ingredients
For the mutton:
1

kg

mutton pieces cleaned and washed well

5-6

tablespoon

oil

2-3

large cinnamon sticks

dalchini

4-5

cloves

loung

4-5

cardamoms

elaichi

1

teaspoon

caraway seeds

shahi zeera

4-5

large onions

finely sliced

3

tablespoon

ginger garlic paste

1

bunch of fresh coriander leaves

4-5

large tomatoes

finely chopped

salt - to taste

7-8

dried red chillies soaked and made into a paste

½

teaspoon

turmeric powder

2 ½

cups

beaten yogurt

3

tablespoon

mint leaves
For the rice:
1

kg

rice

ordinary/basmati

water for boiling

1

cinnamon stick

2

cardamoms

2

cloves

1

teaspoon

caraway seeds

shahi zeera

salt - to taste

2

tablespoon

oil

1

tablespoon

lemon juice

1

tablespoon

ghee
Instructions
For the mutton:
Firstly, take a cooking vessel or pressure cooker, into it add oil and heat it.

Add a tablespoon of yogurt into it.

Add cinnamon sticks, cardamoms, cloves, caraway seeds into it and saute.

Add chopped onions into it and mix well and saute for 2-3 minutes.

Add half a bunch of coriander leaves into it and mix well.

Add ginger garlic paste and saute well to get rid of raw smell.

Add mutton pieces into it and roast well until mutton color changes.

Add salt, mix and cook for few minutes.

Add chopped tomatoes and cook for 3-4 minutes.

Add turmeric powder and mix.

Add dried red chilli paste into it, mix and cook for few seconds.

Add beaten yogurt into it, mix it well and cook for 3-4 minutes.

Add mint leaves into it and the rest of the coriander leaves and mix.

Add about 2 cups of water and mix.

Cook the whole mutton mixture well until the mutton gets tenderized or pressure cook the mutton mixture.
For the rice:
When the mutton is about to tenderize prepare the rice with the following steps.

In a cooking vessel, add water and salt.

Add whole spices such as cardamoms, cinnamon stick, cloves, caraway seeds.

Add a tablespoon of oil into it.

Bring the water to a boil.

Add rice into it and cook until it is 70% done.

Strain the rice.
For the dum:
When the mutton is cooked completely, transfer the strained rice into the cooked mutton mixture, mix the rice with the mutton.

All little oil all over the rice and mutton mixture.

Add ghee and lemon juice all over the biryani.

Cover the lid tightly.

Switch on the stove.

Place a tawa.

Heat the tawa.

Place the vessel on the tawa.

Dum the biryani for about 20 minutes on low flame.

Place any weight on the vessel to not let any steam out.

Serve the biryani with any raita!!!
Notes
1.Ambur biryani does not take any ghee and lemon juice but I have made certain changes to the recipe and added them. These ingredients can be skipped.
2.Adding oil in biryani recipes is necessary as the biryani turns out dry if not added as required.
3.Placing a tawa is essential as the biryani may burn at the bottom if the tawa is not placed.
4.If basmati rice is used for this biryani then soak it for half an hour to 45 minutes before cooking the rice.
Nutrition
Nutrition Facts
Ambur Mutton Biryani Recipe
Amount Per Serving
Calories 600
* Percent Daily Values are based on a 2000 calorie diet.