Mutton Kulambu made in tamil style is a popular gravy kind of mutton recipe and these kind of curries are highly popular in South India especially in the Tamil Nadu region which are served with parotta and also check out mutton curry from the various curries…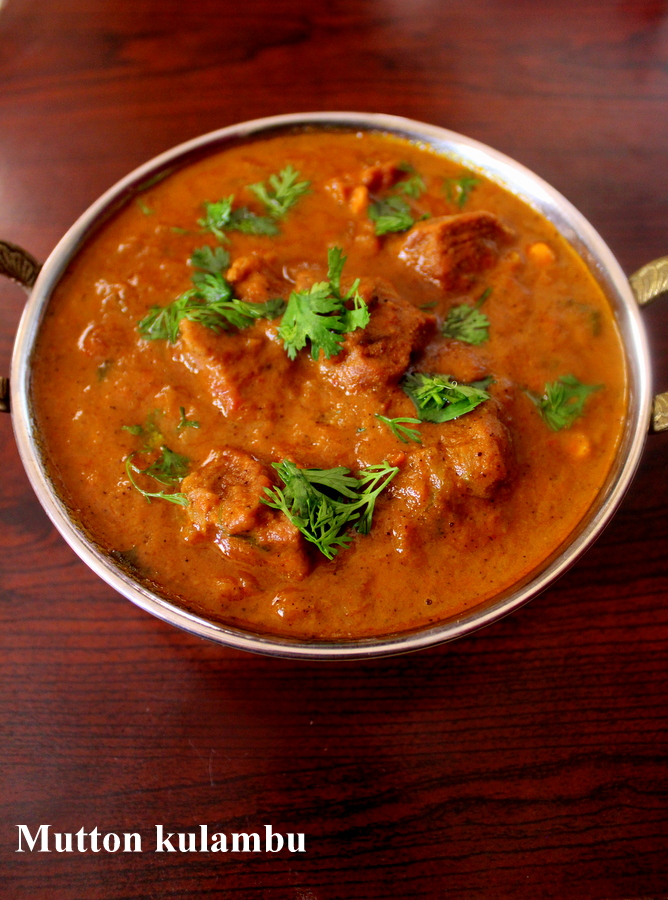 Lamb recipes or mutton recipes on the blog:
What actually is mutton kulambu:
"Kulambu" is basically a term used in place of curry or gravy down south in Tamil Nadu. Kulambu is also referred to as "kuzhambu" which have gravy consistency in the curries and also added a sour touch by adding tomatoes to them.
The base that is made is usually tomato based or tamarind based…
The South Indian curries are slightly differently made compared to other regional curries whether it is a vegetarian recipe or a non vegetarian recipe.
In those gravy based recipes we add certain extra flavors such as curry leaves or made by adding spicy ground masala which includes dried red chillies, black pepper, cumin in most of the kulambu recipes.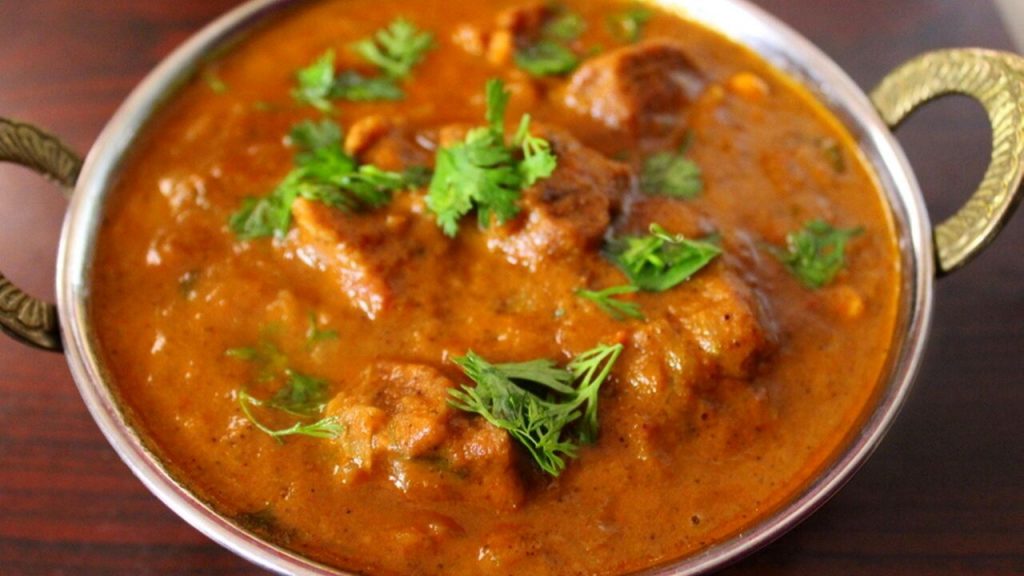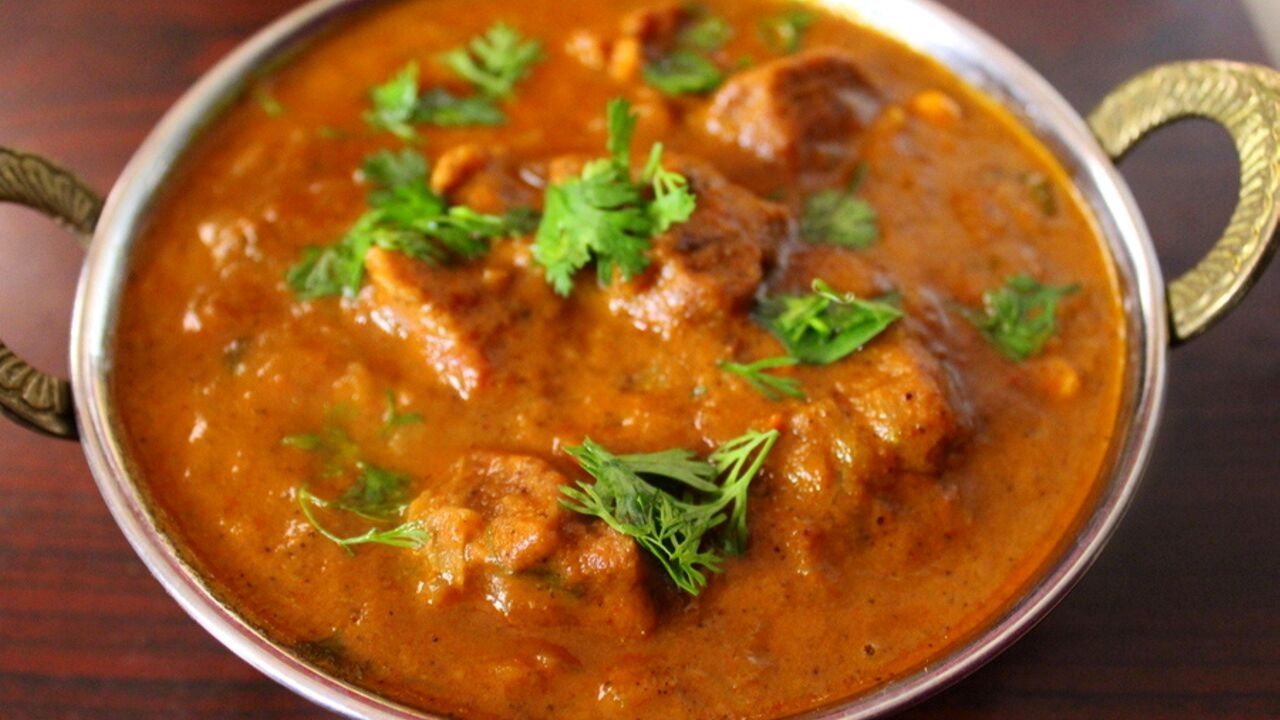 There are few more south indian recipes shared on the blog which are highly popular such as ambur mutton biryani or it is also called as ambur star biryani, ambur chicken biryani, egg kulambu , egg roast, nadan chicken curry , mutton sukka etc…
How to make my version of mutton kulambu:
Here, I have used a masala paste of coriander, cumin, dried red chillies, coconut pieces, onions which have been roasted well and added into the mutton to get a very good gravy and also cooked well so that the masala flavors get infused into the mutton.
Curry leaves are added as the tempering which gives a different aroma to the whole dish and it is basically served with parotta, rice or any sort of pulao recipe.
Different kinds of kulambu recipes:
There are many different varieties in making kulambu dishes such as chicken kulambu recipes, egg  kulambu recipes and also using various veggies.
I would be glad enough to update some of the popular kulambu recipes as I keep trying them, testing them and posting them on the blog for my blog readers to try out some of the amazing south indian recipes.
Advantages of including mutton in diet:
Including meat gives us good amount of protein in diet and helps in growing and strengthening of muscles on our body.
Rich in vitamins and minerals such as zinc, iron etc…
Buying good quality  meat:
To make mutton recipes we always need to buy red, soft and tender lamb meat that can easily get soft even by slow cooking method and also brings out all the yummy flavors and the mutton tastes best when cooked.
Cleaning the fat white deposits all over the meat is also a good step as including lots of fatty content is  unhealthy which raises the cholesterol levels and risks the heart.
Always buy fresh and tender raw meat which helps in speeding up the cooking process of the mutton.
Check out the recipe below which has been shared with detailed steps and also a video procedure for the recipe is shared to understand the process of making kulambu recipe even better.
Mutton kulambu in tamil style: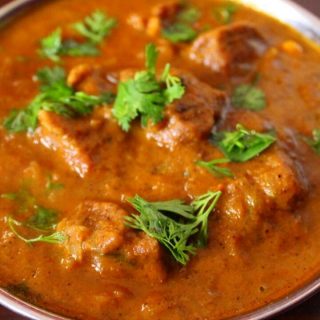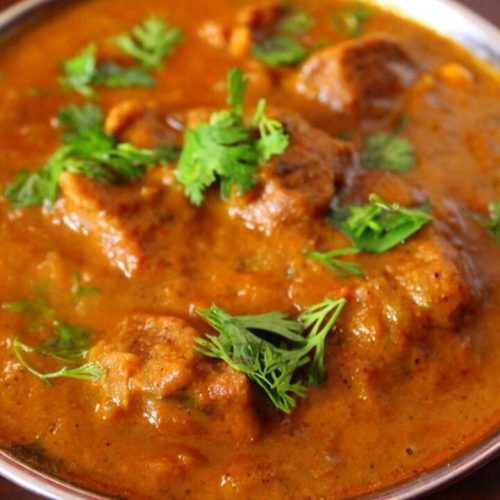 mutton kulambu in tamil style, mutton kuzhambu
A south indian style of making mutton curry or mutton gravy commonly known as mutton kulambu.
Print
Pin
Rate
Ingredients
To dry roast the masala and to make their paste:
1

tbsp

coriander seeds

1

tsp

cumin seeds

1

tsp

black pepper corns/kali mirch

8-10

dried red chillies

2

small cinnamon sticks

2

cloves

1

tbsp

desiccated coconut pieces/fresh coconut pieces

1

onion

(finely sliced)

1

tbsp

oil to roast the onions
To cook the curry:
250

gms mutton

(cleaned and washed well)

2

tbsp

oil

1

onion

(finely chopped)

3

slit green chillies

4-5

curry leaves

1

tsp

ginger garlic paste

2

tomatoes

(finely chopped)

salt - to taste

1/4

tsp

turmeric powder

2

cups

water

1

tbsp

freshly chopped coriander leaves

a pinch of garam masala
Instructions
Making of mutton kuzhambu masala paste:
Take a pan and heat it.

add coriander seeds, cumin seeds, black pepper corns, dried red chillies, dry roast them for few seconds.

Add ciinnamon sticks, cloves and saute for few more seconds.

Take them out on a plate, allow them to cool down.

Add coconut pieces into the pan and dry roast them until they turn slight brown in color.

Transfer them on a plate after roasting.

Add sliced onions in the pan, add a tbsp of oil, mix and roast the onions until they turn slight golden color.

Transfer them onto a plate and allow all the roasted ingredients to cool down well.

Take a blending jar, add all the roasted ingredients into the jar.

Give a blend.

Add some water and make them into a fine paste, set the paste aside for later use.
Cooking of the mutton curry:
Take a pressure cooker, add 2 tbsp oil and heat it.

Add the chopped onions and saute/mix.

Add 3 green chillies, curry leaves, saute until the onions turn soft.

Add ginger garlic paste, saute for few minutes to get rid of the raw smell.

Add mutton pieces into the cooker, roast the mutton until the color of the mutton changes.

Add chopped tomatoes, add salt to taste, turmeric powder, mix and cook until the tomatoes turn soft.

Add the blended masala paste from the jar, also add water into the jar and add the left over paste into the cooker.

Give a mix.

Cook the masala until oil leaves the sides.

Add about 2 cups of water, stir.

Check for salt consistency and add more if required, add freshly chopped coriander leaves, mix well.

Secure the pressure cooker lid.

Give whistles to cook the mutton, one whistle on high flame and two on low flame or until mutton tenderizes.

Switch off the flame and reduce the steam naturally.

Open the lid, add a pinch of garam masala and stir.

Cook for 2-3 minutes on low flame.

Switch off the flame, mix and serve hot.

Serve hot with rice or roti.
Video
Notes
Here, I have pressure cooked the mutton to make it tender and it can also be slow cooked by covering with the lid and not by pressure cooking method.
Dried chillies can be increased or decreased in quantity as per the spicy flavor preferred.
Fresh coconut gives even more a fresh flavor and aroma to the gravy but desiccated coconut too can be used an alternative as I have done here.
Check out the video which I have shared to make this recipe.
If more tangy taste is preferred then it is better to increase one more tomato and balance the masala flavors.
Nutrition
Want To Watch Video Recipes?
SUBSCRIBE US ON YOUTUBE!
This is just one of the ways to make mutton kulambu recipe. I have tried my best to bring out this popular recipe to my viewers who look out for mutton kuzhambu, but if you have suggestions on making other ways of mutton kulambu then do leave your suggestions or a feedback below in the comments section.
Hopefully, I would try other versions as well and post them on the blog so that readers can get an idea on making other versions as well.