Dum Ka Murgh recipe or Hyderabadi Lagan Ka Murgh is a famous Hyderabadi nawabi dish prepared in every Hyderabadi kitchen. This dish is prepared with different nutty ingredients which are blended into a paste and dum cooked.
Dum cooking is very slow cooking with the lid covered and not letting any steam go out. This is a very traditional Hyderabadi dish. It has all the creamy flavors of the yogurt and nuts that are added into it. Dum Ka Murgh recipe is usually prepared in a lagan and so called as 'Lagan ka Murgh'.
Lagan is a cooking vessel with the bottom wide and slightly curved which is available mostly in Hyderabad, but it can also be cooked in any other cooking utensil which is available handy at home.
It can be made during several occasions and can be served with rotis or rice. Dum Ka Murgh recipe should be tried as it is very nutritious and has got many aromatic flavors into it.
Another special chicken curry which I usually try is andhra style chicken curry which is too good to resist in making. The recipe is quite simple to be eaten with any rice delicacy...
                                   Whenever there are small gatherings I try to make many Hyderabadi delicacies and biryani recipes such as chicken dum biryani along with dum ka murgh and rotis and I usually make Bagara Baingan Hyderabadi and I also make sweets such as Double ka Meetha and mixed fruit dessert as these desserts taste yum and they are one of my favorites.
Also read different versions of Hyderabadi Chicken curries or kormas such as Traditional Hyderabadi Korma Curry , Mughlai Chicken , Chicken Bhuna etc.
There are few Hyderabadi recipes which are very simple but I tend to make them frequently and that is dalcha recipe as I like the flavor of these dals and what I love the most is the side dishes to it which are shami kabab or mutton patties and mutton fry .
                The dish can be served with mainly roti or paratha or bagaara rice. Lets get into the details of cooking the nawabi Dum Ka Murgh recipe or Lagan Ka Murgh. 
Recipe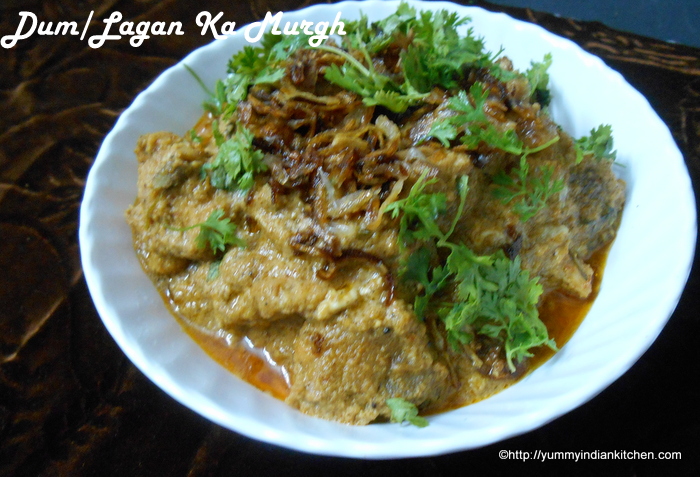 Hyderabadi Dum Ka Murgh Recipe,Lagan Ka Murgh
Hyderabadi Special Chicken Dish - Dum Ka Murgh/Dum Ka Chicken
Ingredients
1

kg

chicken cut into pieces and washed well

3

tablespoon

oil/ghee

1

cup

fried onions

1

tablespoon

dry grated coconut

3-4

cashewnuts

1

teaspoon

chironji seeds

4-5

almonds soaked

1

teaspoon

poppy seeds

salt to taste

1

teaspoon

red chilli powder

1

teaspoon

ginger garlic paste

1

teaspoon

green chilli paste

1

cinnamon stick

2

cardamoms

1

teaspoon

garam masala powder

1

teaspoon

black pepper powder

1

cup

yogurt

1

cup

tomato puree

1

teaspoon

green chilli paste

2

teaspoon

coriander leaves finely chopped

2

teaspoon

mint leaves finely chopped

1

teaspoon

lemon juice
Instructions
For the paste:
In a griddle/tawa, dry roast the coconut, dry roast the cashewnuts, dry roast chironji seeds, dry roast poppy seeds.

Peel the soaked almonds.

Make a paste of all the ingredients and keep it aside.
For the Curry:
Marinate the chicken with salt, red chilli powder, ginger garlic paste, green chilli paste for about 30 minutes.

In a lagan/wok heat oil or ghee, add cinnamon stick, cardamoms, blended paste of all the nuts, stir well and cook the masala until oil appears at the sides.

Add red chilli powder, green chilli paste, salt, tomato puree, yogurt, fried brown onions, mix well and cook for few minutes.

Add marinated chicken, salt, chopped mint leaves, chopped coriander leaves, garam masala powder, pepper powder and cook well until chicken gets tender.

Garnish with onions, coriander leaves and lemon juice.

Serve with rotis or rice.
Notes
I have just blended the raw tomatoes into puree and added into the curry. One can also add the tomato puree that is available in the market.
Nutrition
Nutrition Facts
Hyderabadi Dum Ka Murgh Recipe,Lagan Ka Murgh
Amount Per Serving
Calories 500
* Percent Daily Values are based on a 2000 calorie diet.