Kadai chiken recipe, a gravy kind of chicken curry made using onion puree, tomato puree, cashewnut puree and it has a semi dry and slight thick gravy consistency .
Origin of chicken karahi:
This gravy chicken recipe is quite popular in North Indian cuisine and is widely served in every restaurant and street corners of Northern India with naan.
It is also a pakistani delicacy and is hugely popular dish of Pakistan.
It is slowly gaining popularity in all the Indian restaurants as this gravy is perfect with all kinds of Indian flat breads.
Do check out amazing indian chicken recipes collection on the blog such as chicken keema, chicken sukka , tangdi kabab and other non veg recipes such as paya soup etc...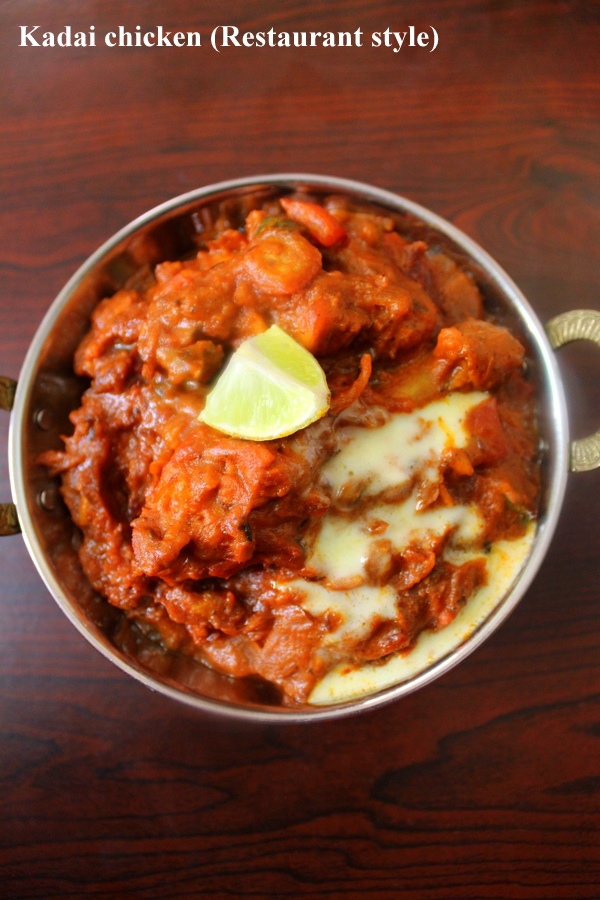 HOW TO MAKE CHICKEN KARAHI MASALA GRAVY:
The making of these masala paste is easy and in this recipe we tried to use tomato puree that is tomato paste as well as onion paste combined with cashew paste.
The tomatoes, onions and cashews have to be boiled well as adding blended paste of tomatoes, onions and kaju after boiling gives a real good taste to the curry.
If the above ingredients are added as raw paste and not boiled, then the taste of the gravy is not as per desired or as we wish it to be.
Normally, we prefer making different kinds of chicken curries but it is less likely that we add rich and creamy paste to the curry but this special kadai chicken uses rich onion and kaju paste which gives a creamy texture to the gravy as well as tastes creamy and goes with flat breads like naan or chapati recipe.
It also uses tomato puree in order to get slight tangy touch to the gravy which other wise gets sweet due to the onions and kaju paste that is added into the curry.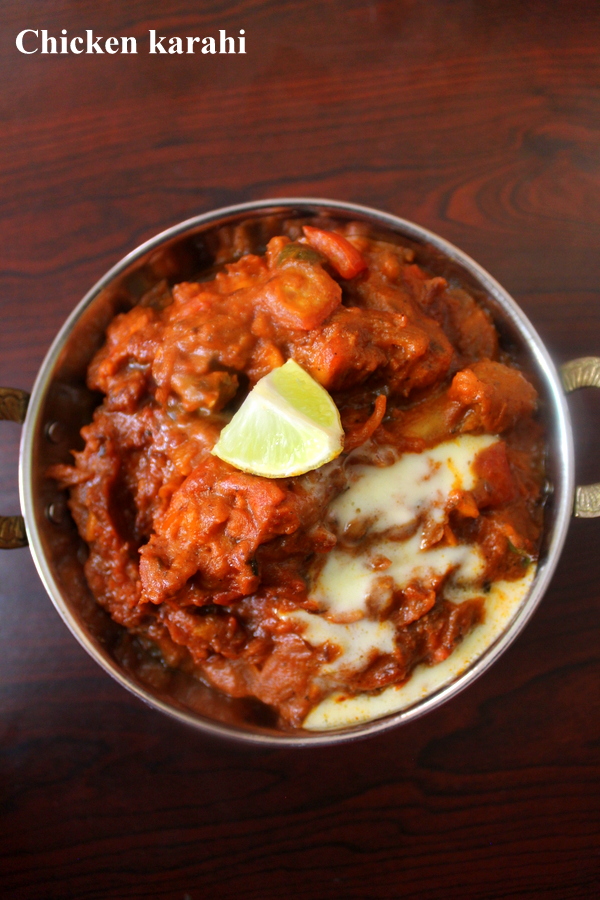 KADAI CHICKEN MASALA:
Usually spices such as coriander seeds powder, kashmiri red chillies, black pepper corns, cumin seeds, crushed kasoori methi are dry roasted in a pan or kadai and blended into a fine powde which is called as kadai masala.
This kadai masala along wih garam masala is added into mutton kadai, kadai paneer, chicken kadai etc...
My version of Kadai chicken:
Here, in this recipe I have not combined all the kadai masala ingredients but added each of them individually as these spice ingredients are always handy in Indian kitchens.
To make the process appear simple I have shown all the spices adding individually.
One can even combine them, roast them and add all the spices at once as well.
I have also used puree of tomato, onion and kaju in order to get gravy consistency but the simpler version of kadai chicken is cooked by just adding chopped onions, chopped tomatoes and cooking the chicken by adding kadai masala such as dhaniya powder, jeera powder, kali mirch powder, kasoori methi, lal mirch powder, garam masala powder etc...
My version of kadai chicken is almost similar to street style method or the one that is made in restaurant which has a creamy texture.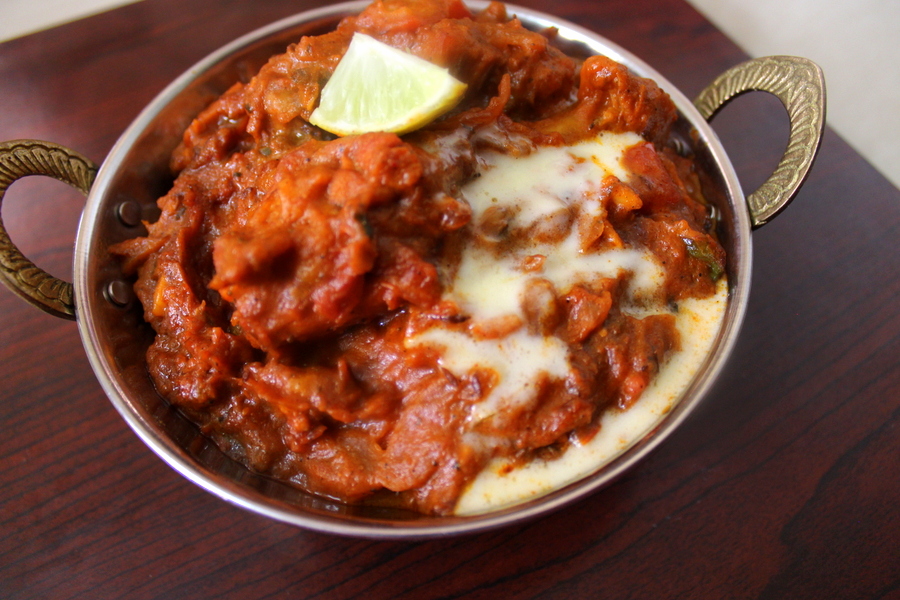 Different chicken gravies:
Most of the North Indian punjabi gravies with chicken almost appear same but there are slight variations to it and the complete aroma and taste of the gravy varies.
Chicken gravies such as butter chicken recipe, chicken tikka masala, chicken makhani, chicken kadai amost all use rich creamy paste for the gravy but the technique and the masalas added are different and the process of cooking too is different.
I would like to update all these chicken gravy recipes as soon as possible on the blog along with video procedures in order to understand how all these similar looking gravies are cooked differently.
There are many varieties in which chicken is used and made and every part of chicken can be used to make hundreds of chicken items which are never ending and unique.
Indian chicken recipes are getting huge popularity even in International restaurants with gravies like butter chicken recipe, chicken tikka masala recipe etc....
Non vegetarians should try to include chicken by making healthy chicken recipes which is full of proteins and help us build muscles and strength by eating it often.
Avoid making spicy chicken recipes as much as possible as they lose all the nutrients during cooking and only has a taste. Health conscious people should try to eat chicken by grilling, steaming or using less of oil and spices. These techniques retain their nutrient value and help us give good results when consumed.
Always buy good quality chicken and make sure it is freshly cut as the outcome of the chicken dishes with not so freshly cut chicken is bad and unhealthy.
Check out below my version of making kadai chicken recipe with the recipe card as well as a video procedure.
How to make kadai chicken recipe, chicken karahi: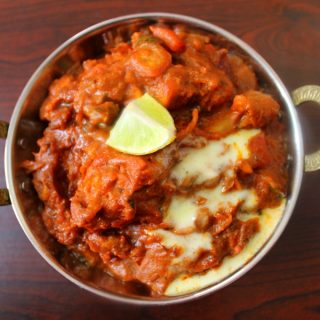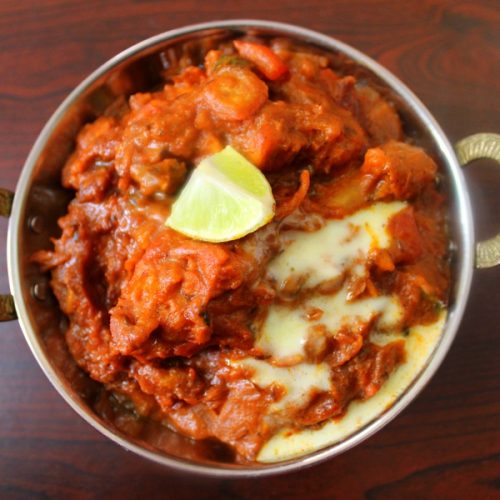 kadai chicken recipe, chicken karahi masala gravy
A Punjabi, Pakistani and Indian country popular chicken gravy made in a kadai or a pan which has semi dry semi gravy texture perfect with naan and chapati.
Ingredients  
To boil the chicken:
250

gms chicken pieces

(cleaned and washed well)

salt to taste

water to boil the chicken
To make chicken karahi:
2

tbsp

oil

¼

tsp

jeera/ cumin seeds

½

tsp

ginger garlic paste

1

medium size onion

(diced or cut into cubes)

1

green capsicum

(deseeded and cut into small cubes)

2

slit green chillies

salt - to taste

½

tsp

red chilli powder

¼

tsp

turmeric powder/haldi

½

tsp

roasted coriander seeds powder

(dhaniya powder)

¼

tsp

garam masala powder

½

tsp

black pepper corn powder/kali mirch powder

¼

tsp

crushed kasoori methi/ dried fenugreek leaves

¼

tsp

red food color mixed in 2 tsp water

1

cup

tomato puree

(use 3-4 tomatoes)

2

cups

onion and cashewnut/kaju paste

½

cup

water

1

tomato

(deseeded and cut into cubes)
For garnishing:
2

tsp

butter

2

tsp

cream/malai

1

tsp

freshly chopped coriander leaves

small lemon wedges
Instructions 
Step 1(To boil the chicken):
Take a vessel, add water into it.

Add salt to it and add the chicken pieces into it.

Boil the chicken for 10 minutes.

Once boiled, switch off the flame.

Strain the chicken pieces.

Set them aside for later use.
Step 2(To make tomato puree):
Take 3-4 tomatoes, boil the tomatoes in water by adding a pinch of salt for few minutes, cool them down and make a puree out of it.

The puree should be at least 1 cup.
Step 3 (To make onion cashewnut puree):
Take 2 onions, 8-10 cashewnuts/kaju, add them in water and boil them for 5-10 minutes.

Switch off the flame.

Cool it down.

Transfer the onions and cashewnuts in a blending jar and make a fine puree of both the ingredients.

Transfer the paste into a cup for later use.
Step 4 (Process of cooking chicken karahi):
Take a kadai or a wok or a pan or a cooking utensil.

Add 2 tbsp oil into the kadai.

Add cumin seeds into it and let them splutter.

Add ginger garlic paste, saute for few minutes to get rid of raw smell.

Add the small cubes of onion into the oil.

Add small cubes of green capsicum into it.

Saute the onions and green capsicum for few minutes until they turn soft.

Add slit green chillies, saute them well.

Add the boiled chicken pieces into the kadai and roast the chicken well.

Add salt to taste, red chilli powder, turmeric powder, roasted coriander seeds powder.

Add garam masala powder, kali mirch powder, crushed kasoori methi.

Mix all the masala ingredients with the chicken well.

Cook them for few minutes until the masala starts releasing oil at the sides.

Add red food color mixed in some water.

Give a mix.

Add the tomato puree that has been made.

Give a mix.

Cook the tomato puree for 3-4 minutes on low flame until oil appears at the sides.

Add 2 cups of onion and kaju paste/puree into the chicken gravy.

Mix well.

Cook the masala for five to ten minutes on low flame.

Add around ½ to ¾ cup of water into the gravy and mix.

Cook the gravy for five minutes.

Add the deseeded tomato cubes into the chicken gravy.

Give a mix and cook for 2-3 minutes.

Switch off the flame.

Serve hot hot kadai chicken in a kadai.

Garnish with malai or cream.

Add some butter from the top.

Also garnish with some freshly chopped coriander leaves and lemon wedges.

Serve hot with naan or roti.
Video
Notes
Adding kaju/cashew paste makes the gravy rich and therefore, regularly kadai chicken making viewers can skip adding kaju paste.
Just adding boiled onion and tomato paste is enough for a good gravy.
Adding cream at the end too is optional if all the ingredients are not available easily while making at home.
One can combine the kadai masala and add into the gravy or add the mentioned kadai masala ingredients separately. Both the ways give good outcome.
Nutrition
Nutrition Facts
kadai chicken recipe, chicken karahi masala gravy
Amount Per Serving
Calories 500
* Percent Daily Values are based on a 2000 calorie diet.
WANT TO WATCH VIDEO RECIPES?
SUBSCRIBE US ON YOUTUBE
Do leave us your queries and comments regarding the recipe and we get back trying to answer them as quickly as possible.