Hyderabadi Khatti Dal is a very popular dal recipe mainly made in hyderabad which is a tangy tamarind tomato dal and often accompanied with kebabs or koftas as side dishes. It is basically pressure cooked with yellow lentils/pigeon pea(Toor Dal) and tomatoes.
The recipe follows with tangy tamarind pulp added to it and the whole dal or khatti dal is boiled with herbs and finally it is finished by giving an aromatic tadka.
It can be served with shami kabab, potato fry, chicken fry andhra style etc...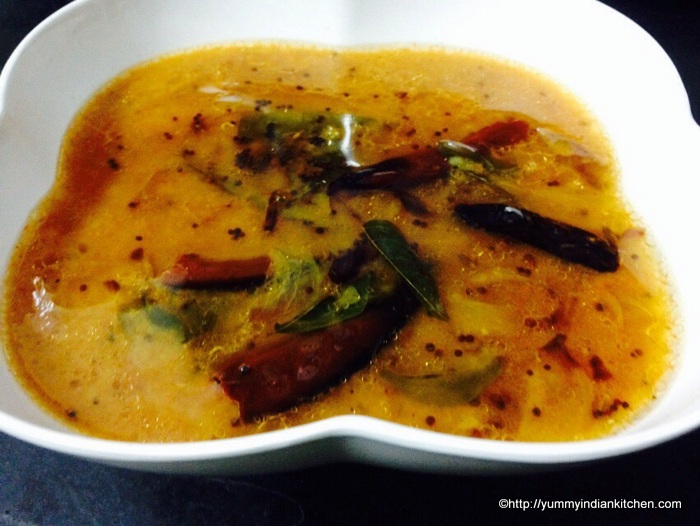 'Khatti' is a term used in hindi or urdu for the english term 'sour' and hence called as khatti dal as the dal gives a slight tangy taste and is a soupy kind of dal.
Here in this recipe I am making the dal using 'toovar dal' but it can also be replaced with 'masoor dal' and the recipe procedure to be followed is the same.
Dal recipes are common in south india. South Indians prefer eating dals in their day to day life. Dal is basically a dish which is made with lentils of many types red, yellow and green.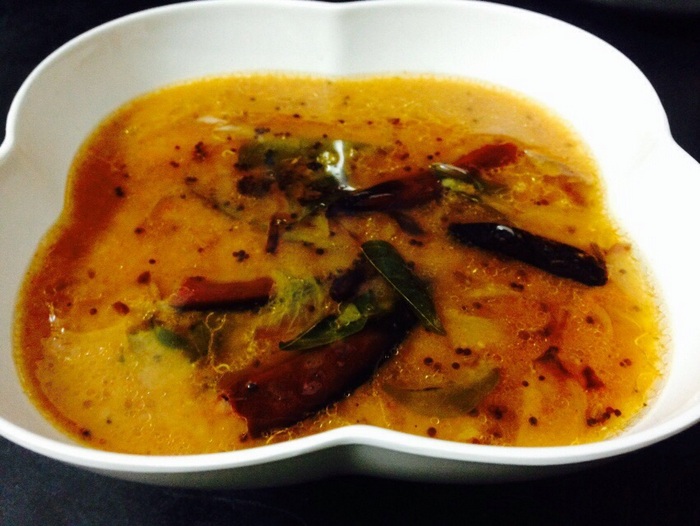 These vegetarian dals are common in Indian households mostly in South India and North India. Dal is usually cooked and tempered but there are different variations to it which I will be sharing as I keep updating with recipes on my blog. Dal is usually an accompaniment mainly with rice or roti.
Cooking different versions of dal with different lentils and giving a good tempering really gives out a good flavour. The consistency of the Dal varies with different daal making methods which I will be updating as I keep posting.
Hyderabadis do not eat dal everyday but whenever dal is made it is either a katli which is nothing but dal and leafy vegetables are mixed and cooked or a khatti dal which is made occasionally in hyderabadi households.
                   Dal is twisted as kaddu dalcha or mutton dalcha or katli and made usually and they are always eaten with some kebabs or papad or pickle.
Recipe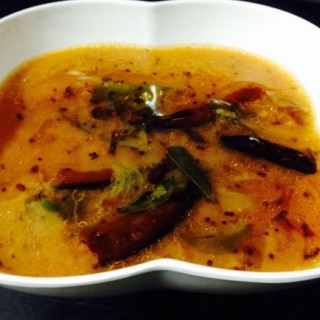 Khatti Dal Recipe Hyderabadi, Hyderabadi Khatti Daal
A tangy tomato tamarind khatti dal generally made in every Hyderabadi Muslim household and eaten along with rice and kababs...
Ingredients
For pressure cooking the dal:
1

cup

Toor dal/toovar dal/pigeon pea

yellow lentils washed

1

teaspoon

turmeric powder/haldi

3-4

slit green chillies

3-4 to

matoes finely chopped

1

glass of water

1

teaspoon

red chilli powder

one small lemon sized tamarind

extracted pulp
For boiling the dal:
salt - to taste

1

teaspoon

roasted coriander seeds powder

1

tablespoon

fresh coriander leaves

6-7

curry leaves

2

slit green chillies
For tempering/tadka:
1

teaspoon

cumin seeds

jeera

1

teaspoon

mustard seeds

rai

1

medium size onion

finely sliced

1-2

garlic cloves

2-3

dried red chillies

10-15

curry leaves
Instructions
For pressure cooking the dal:
Add toor dal in a pressure cooker, add water, turmeric powder, green chillies, chopped tomatoes and pressure cook on sim flame for around 15 minutes or until dal gets tender.

After the dal is cooked, reduce the steam of the cooker, mash the dal into a thin fine paste.

Add red chilli powder and mash it well.

Add tamarind extracted pulp to the mashed dal , stir it well.
For boiling the dal:
Add salt as per taste and add roasted coriander seeds powder.

Add green chillies, add curry leaves, add fresh coriander leaves and bring it to a boil and keep aside.
For tempering/tadka:
Heat oil in a tadka pan.

Add mustard seeds and cumin seeds, let them begin to pop up.

Add finely sliced onions and cook till they turn slightly pinkish.

Add garlic cloves and stir well.

Add dried red chillies , stir well for few seconds.

Add curry leaves and allow them to crackle.

Add the tempering to the dal.

Garnish with finely chopped coriander leaves.
Notes
1.Dal can be soaked for a while inorder to get it tenderised/soft quickly. This dal recipe is good for winters as it is little watery and tangy.
2.In order to make it good for winters one can add black pepper powder while boiling as it gives us the warmth.
3.In order to cook the dal faster add a teaspoon of oil to tenderize it quickly.
4.Here, in this recipe I have added finely sliced onions and garlic cloves to enhance the flavor of tempering and to give aroma however, they can be skipped as they are not added in a traditional hyderabadi khatti dal.
5.Some Hyderabadi khatti dals are made by adding ginger garlic paste while tenderizing the dal and it is optional and can be preferred if one is willing to add.
Nutrition
Nutrition Facts
Khatti Dal Recipe Hyderabadi, Hyderabadi Khatti Daal
Amount Per Serving
Calories 310
* Percent Daily Values are based on a 2000 calorie diet.
Video recipe for Hyderabadi Khatti Dal: