Nariyal Ki Chutney is a chutney recipe to be taken with breakfast recipes such as idli or dosa or vada or uttapam or any south indian breakfast recipe.
Nariyal is coconut in english and here I have used the freshly grated coconut to make the chutney. Do not use dry coconut or desiccated coconut as it does not give out the flavor which nariyal gives.
South Indian breakfast recipes are incomplete without chutneys and there are many many chutneys that go well with idli or dosa or anything.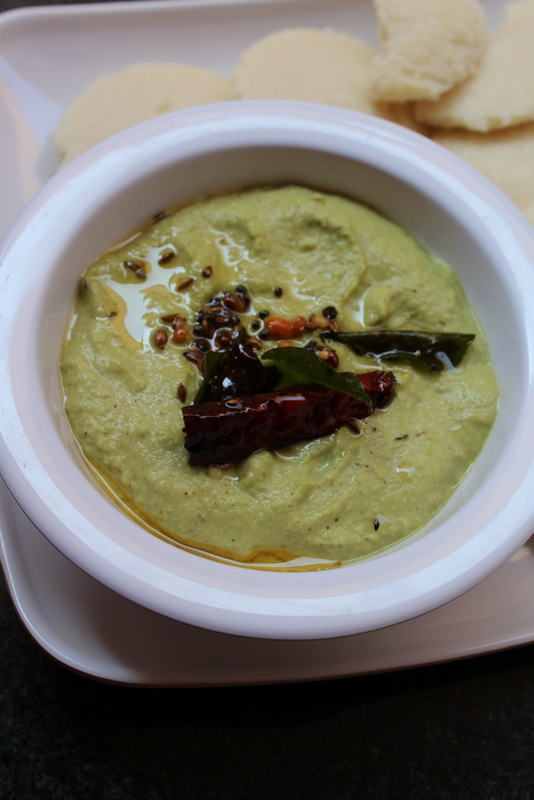 The nariyal itself can be used to make many chutneys like coconut chutney, coriander coconut chutney, red coconut chutney etc.. and here I have posted the recipe of chutney which has ingredients like ginger, roasted chana dal, coriander, tamarind piece etc…
The chutney can be made with many variations and with time would love to write down as many south indian chutneys as possible for my blog readers to try them out.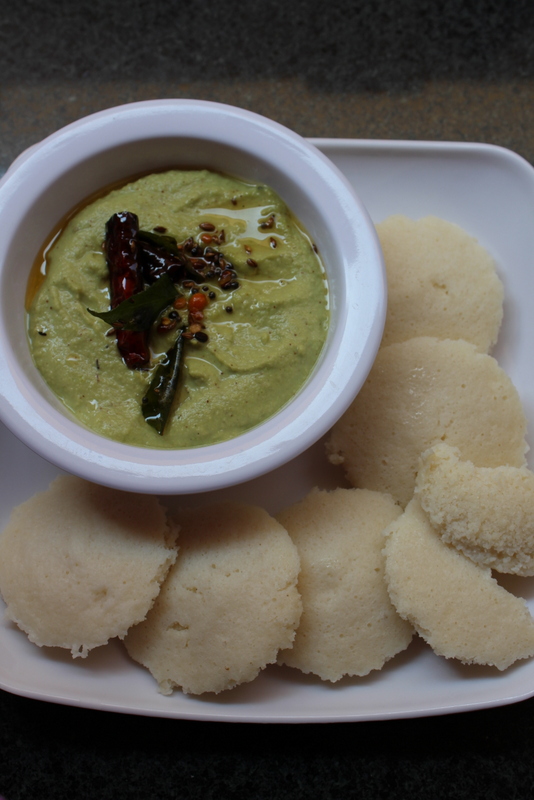 Chutneys are usually made with common ingredients like coconut, tomato, peanuts, onions or sesame seeds. These ingredients lift up the flavors of the chutneys by adding few spices.
The nariyal ki chutney which I shall be sharing can be eaten with idlis, dosas, vada, poori, pesarattu, uttapam and sambar recipes. This chutney recipe does not taste good with rice or roti.
Below is the recipe of nariyal ki chutney which is side dish to many south indian breakast recipes:
How To Make Nariyal Ki Chutney Recipe Below: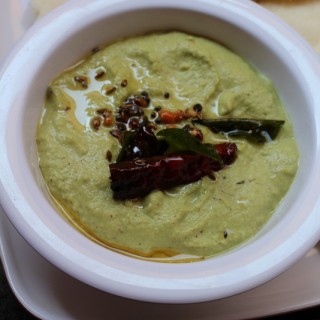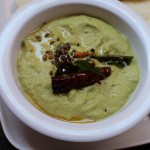 Print Recipe
Nariyal Ki Chutney Recipe
Nariyal Ki Chutney is a side dish for south indian breakfast recipes like idli, dosa, vada, uttapam etc...
Ingredients
To Blend The Chutney:
1

cup

grated nariyal/coconut

1

tbsp

roasted chana dal

salt - to taste

4-5

green chillies

1

inch

ginger piece

adrak

1

inch

tamarind piece

imli

1

tbsp

coriander leaves

optional
For The Tempering:
1

tbsp

oil

1/4

tsp

urad dal

1/4

tsp

chana dal

1/4

tsp

mustard seeds

1/4

tsp

cumin seeds

3-4

dried red chillies

4-5

curry leaves
Instructions
For The Chutney:
Take a blender, add grated coconut, add roasted chana dal, add green chillies.

Add salt, ginger piece, tamarind piece, coriander leaves.

Blend the mixture well.

Add little water and blend into a chutney paste.
For The Tadka:
Add oil and heat it.

Add urad dal, chana dal and saute.

Add mustard seeds, cumin seeds and stir.

Add dried red chillies, mix.

Add curry leaves and when they crackle transfer tha tadka into the chutney and mix.
Notes
1.Adding of coriander leaves in this chutney is optional and can be skipped if green color chutney is not preferred.
2.Garlic cloves too can be added in place of ginger and can be skipped if they are not preferred.
Nutrition
Like and Follow on Facebook:
Like or Follow us on our facebook page @YummyIndianKitchen to receive all the latest posts and videos from this blog....
SUBSCRIBE TO OUR YOUTUBE CHANNEL
To watch our recipe videos do SUBSCRIBE! and do not forget to press the bell icon to receive every update!!!