Hyderabadi Haleem Recipe is an authentic and traditional Ramadan special delicacy served as an evening meal during iftar after fasting for the whole day.
Other mutton recipes on the blog are mutton gravy, mutton korma, mutton masala, mutton biryani hyderabadi etc…
Iftar special recipes that should be checked on the blog are chicken 65, shami kabab, chicken pakora, chicken fried rice etc…
Haleem is like a stew or a porridge which has amazing flavor or aroma of ghee/clarified butter and a very slight tangy taste due to the lemon extract added while eating.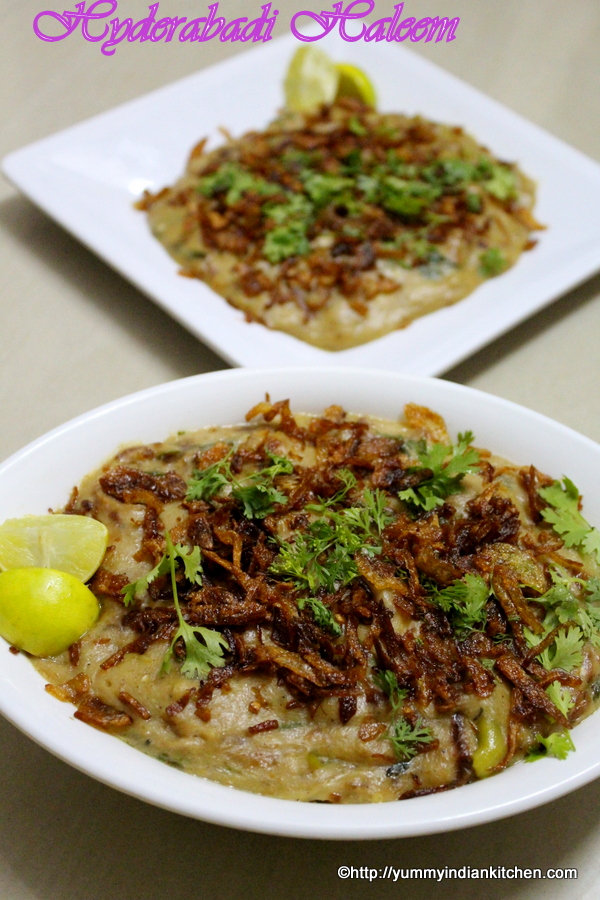 Hyderabad is not only famous for Hyderabadi biryani but is also quite popular for its special Haleem. Its popularity is spreading all across India.
After breaking the day long fast, iftar is incomplete without haleem. It is a very healthy dish packed with full of proteins and one of the best delicacies to be eaten during the month of ramazan.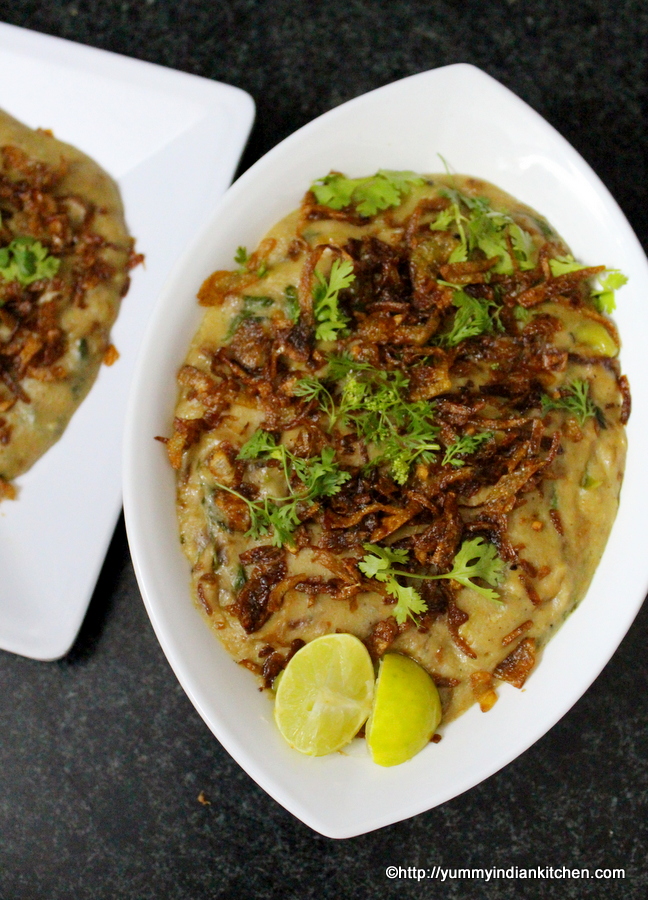 Haleem is basically an Arab dish but soon gained popularity in Hyderabad. Traditional haleem takes hours to make where the mutton and dals are pound to get the best taste.
Haleem can also be prepared at home and is a very simple and easy recipe if proper steps are followed.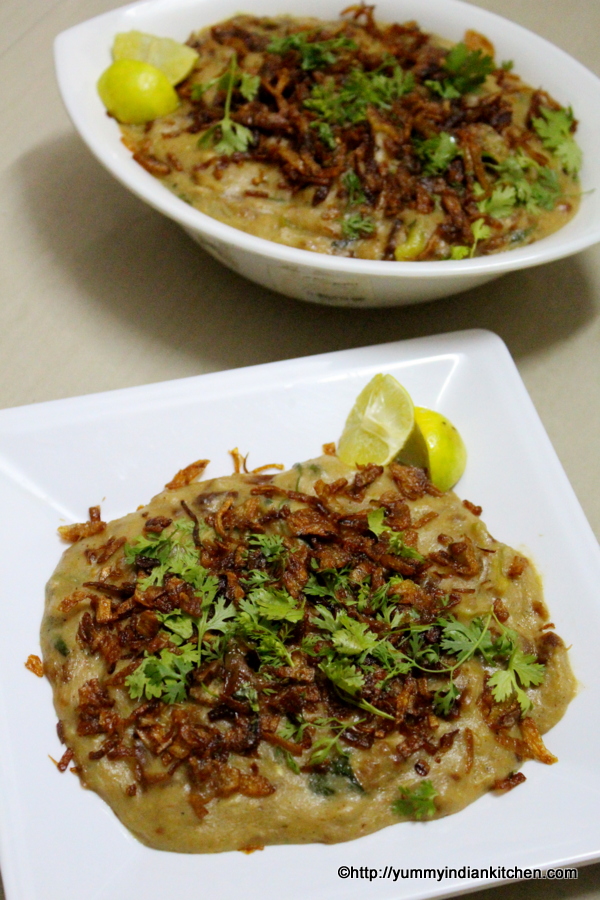 Haleem basically is prepared using mutton, whole spices and dals which are mashed well using a masher or if we are making at home we can use a blender to mash the mutton and dals well.
This hyderabadi special mutton haleem which I shared today is an authentic haleem recipe made using mutton but haleem can also be tried using chicken too.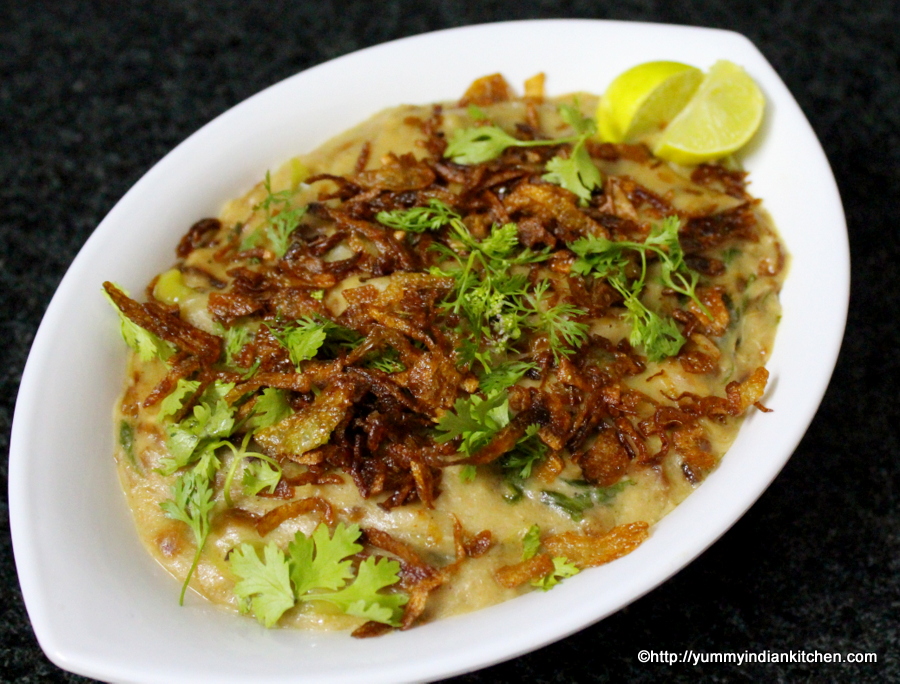 Haleem making at home does not require hours to make and it can be simplified in a pressure cooker and yet obtain a better taste.
Haleem is incomplete without pure ghee. Making use of pure ghee and fresh spices gives the perfect taste for haleem.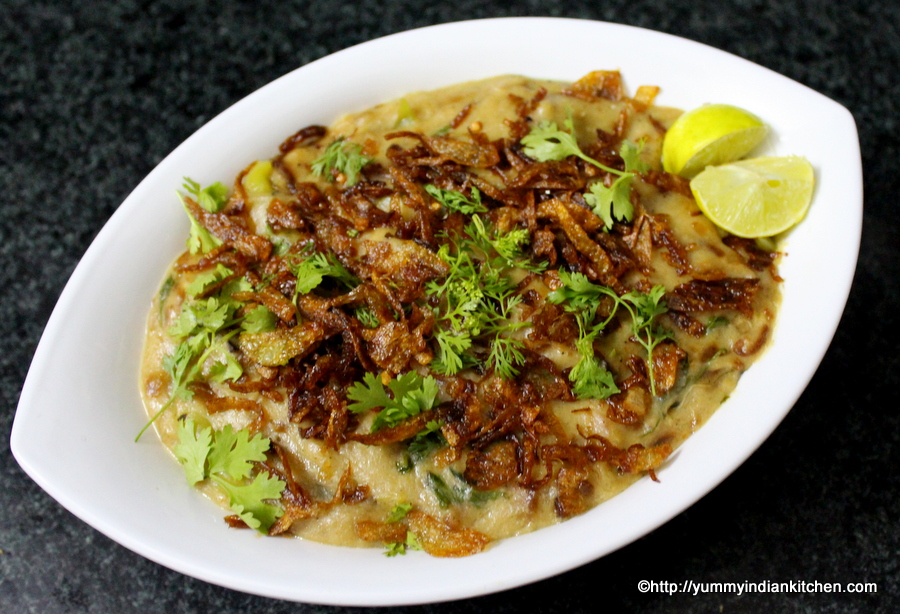 Here in this post of Hyderabadi haleem recipe I have also used yogurt and some prefer to add milk in place of yogurt and both give a very great taste to the dish.
Without much ado let me share the insights into making this scrumptious mutton haleem recipe from Hyderabad.
How To Make Hyderabadi Mutton Haleem Recipe:
Haleem Recipe Hyderabadi, Mutton Haleem Recipe Ramadan Special
Authentic and traditional Hyderabadi haleem recipe made using mutton chunks and broken wheat mixed is a healthy iftar meal during the month of Ramadan.
Ingredients
For cooking mutton(these ingredients are needed for step 1 in instructions):
1 kg mutton/meat cleaned and washed well
12-15 green chillies
1 tbsp ginger garlic paste
½ tsp turmeric powder(haldi)
1 medium size cinnamon stick(dalchini)
4 cloves(loung)
3-4 green cardamoms(elaichi)
½ tsp caraway seeds(shahi zeera)
5-6 black pepper corns
salt - to taste
1 cup water(200 ml approx...)
For cooking dals(these ingredients are needed for step 2 in instructions:
150 gms daliya(broken wheat)
1 tbsp mash ki dal/urad dal(split black gram)
1 tbsp toovar dal(pigeon peas)
1 tbsp chana dal(bengal gram/chick pea gram)
1 tbsp yellow moong dal
salt - to taste
2 glasses water
Other ingredients needed while mixing mutton and dals(these ingredients are needed for step 4 in instructions) :
3 tbsp oil
3 medium size onions finely sliced
1 tbsp ginger garlic paste
1 bunch freshly chopped coriander leaves
1 bunch freshly chopped mint leaves
5-6 slit green chillies
1 tsp full black pepper corn powder
½ tsp turmeric powder(haldi)
1 cup beaten yogurt(200 ml approx...)
7-8 medium size onions deep fried and crushed(crushed deep fried brown onions)
5-6 tbsp pure ghee
Ingredients for garnishing:
Freshly chopped coriander leaves
Deep fried onions
5-6 lemons cut into 4 halves
Instructions
Step 1(Cook the mutton):
Firstly, in a pressure cooker, add the mutton chunks, add salt as per taste, add turmeric powder, about 12-15 green chillies, ginger garlic paste.
Add whole spices such as cloves, cardamoms, cinnamon, caraway seeds(shahi zeera), black pepper corns.
Add little water(1 glass approx...) and cook the mutton until it is tender.
Step 2(Cook the dals):
Take a pressure cooker, into it add daliya/broken wheat, add urad dal, add toovar dal, add chana dal, add yellow moong dal.
Add about 2 glasses of water and pressure cook until the dals get soft.
Step 3(Blending the mutton and dals):
In a blender, add the cooked mutton and blend into a fine paste and transfer it into a bowl or vessel.
In the same blender, add the cooked dals and blend into a fine paste and keep aside.
Step 4(Mix the cooked mutton and dals):
In a separate cooking pot, add oil, add 3 medium size sliced onions and fry until golden brown.
Add ginger garlic paste and saute well.
Add fresh coriander leaves, mint leaves, green chillies, mix well.
Add yogurt, mix and cook for 2-3 minutes.
Add black pepper corn powder, turmeric powder and mix well.
Add the blended paste of mutton and also the blended paste of cooked dals into it.
Mix it well and keep stirring and mixing until the mutton and dals get mixed well.
Add pure ghee all over and mix.
Cook it for about 5-10 minutes on low flame and keep stirring.
Add crushed deep fried onions into it(approx... 7- 8 onions).
Add some fresh coriander leaves all over.
Mix it well.
Switch off the flame.
Serving:
Serve haleem in bowls, in each bowl, add coriander leaves, deep fried onions, lemon slices , and serve hot.
Sprinkle lemon extract all over the haleem while eating for a slight tangy taste.
Enjoy the delicious Ramadan special haleem.