Ginger Garlic Paste recipe idea crossed my mind when I decided to start "how to" series as this series is essential for every Indian Household or any family and this is my first post on how to do basic kitchen cooking stuff.
Other indian spices that should be checked on the blog are cumin powder, coriander powder etc...
I use this paste in many indian recipes such as oven biryani, ambur biryani, hyderabadi biryani etc...
Every kitchen definitely has all the basic ingredients and those are daily spices or curd, pickles or powders or any homemade stuff which we use in everyday cooking mainly in every non vegetarian recipe and few vegetarian recipes and cooking is definitely not possible without those ingredients.
Today I have come up with an idea of sharing ginger garlic paste recipe with my readers as this is an essential ingredient in cooking. The process needs little patience and time consuming but it can be stored and used for a longer period of time.
We cannot instantly make the paste while cooking especially when we are working or when we get busy with our daily schedules. The ginger garlic paste needs to be mixed and blended well with all the ingredients together.
Generally, one might think that the ginger garlic paste can be acquired from the markets but the paste which is bought from outside is definitely not recommended unless it is 100% pure ginger garlic paste.
My personal experience with the paste is that it not only gives out disliking aroma and flavor but is also adulterated with some unwanted ingredients which we are unaware of.
It is good to have a home made paste which is hundred percent pure, no adulteration and also keeps it fresh if stored properly and also gives out an amazing flavor and aroma into the dish prepared.
I would advice everyone to spare some time in buying fresh ginger and fresh garlic from the markets, spare some time to clean them and then you are on your way to make delicious Indian cuisine recipes.
We have great blenders which has made our cooking easy within less time and the ginger garlic paste too can be made within minutes using a blender or a wet grinder with a smooth and fine paste.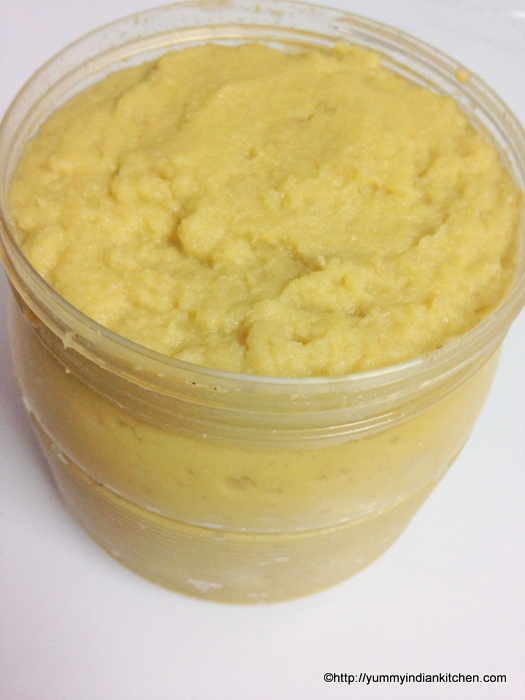 How To Select The Ginger and Garlic For The Paste :
You can also buy ginger and garlic from the markets which are sealed packets with packaged date and expiry date. You could also buy them from the markets but do check them if they are fresh and I usually pick up ginger with lots of mud attached to them as they tend to appear as if they have been removed from underground just before selling.
They should appear strong and not dull due to lack of water or heat etc.. Garlic pods should appear big enough which helps in peeling the skin easily.
How To Peel?
Now comes the process of peeling and cleaning and I can understand that it takes time. So if you are making it for the first time then it is better to make them in small batches.
Firstly start with garlic as it takes long time to peel and one method we usually follow is we first break the bulb of garlic and separate all the cloves from the bulb. Then, once the cloves of all the bulbs are separated then we apply edible oil to the garlic cloves and mix it well and rest it aside for a long time. We then start peeling by taking a single clove and striking the shoot of it to the stone or any hard surface and the peeling gets easy by following this procedure and also after the application of oil.
Another method after resting it aside after applying oil is place the garlic cloves in a tight container and shake them well and they should strike to the sides and the walls of the container in harder manner. The skin can be removed easily in that way too.
But, our fingers get painful after the long process but not to worry as the end result pays off.
The ginger should be washed well and can be peeled with the help of a spoon bowl or a knife.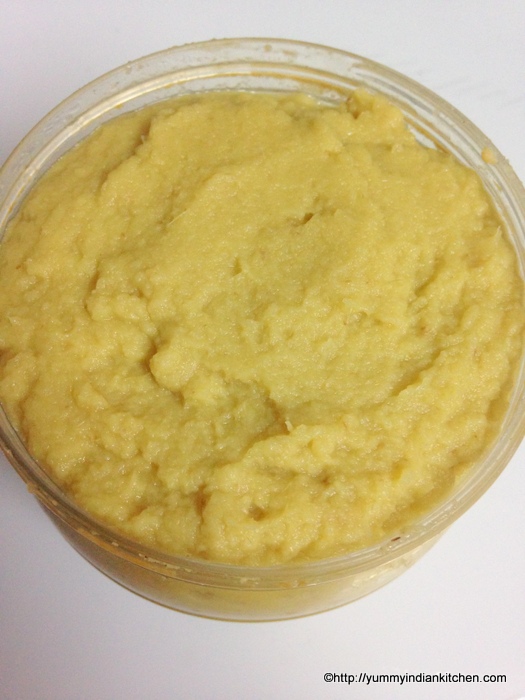 How to store and use ginger garlic paste at home:
1. If you opt for more ginger flavor then add more quantity of ginger and less of garlic.
2.If you opt for more garlic flavor then go for more garlic and less of ginger.
3.Quantity depends on your required flavor or you can choose to add both in same proportion.
4. If you are storing it for a longer time then vinegar can be added as a preservative and it does not alter the taste.
5.The container with ginger garlic paste should be placed inside the refrigerator and not outside.
6.If you have made many containers of the paste then place those containers into the freezer and when you are about to use it just take them out and place the container to be used in refrigerator .
7. Oil or water can be added as an optional ingredients to make the blending process easy.
8.If kept for a long time the surface on the top of ginger garlic paste changes the color and one need not worry as it usually happens after few days.
9. If you are making fresh and instant paste of ginger and garlic then I would suggest you to add few green chillies or coriander leaves as they give an amazing taste to the dish you prepare.
10.Some also prefer to add little bit of turmeric powder to the paste as well.
How To Make Homemade Ginger Garlic Paste Recipe For Indian Cooking:
Recipe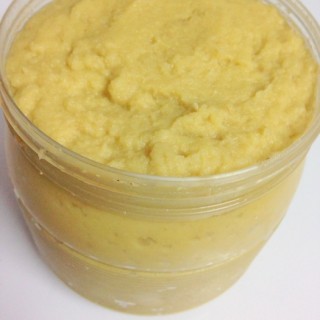 Ginger Garlic Paste Recipe
Ginger Garlic paste is a common ingredient used in everyday cooking...
Ingredients
250

gms ginger washed

peeled and cut into small pieces

250

gms garlic peeled.

salt - to taste

oil or water very little approx tbsp

optional
Instructions
Firstly, mix the ginger garlic pieces well in a bowl.

Add the pieces in batches in a blender.

Add salt as per your requirement and start blending.

One can add very little water or oil while blending to make the grinding process easy.

Blend it into a smooth fine paste.

Continue doing the same with the remaining batches of ginger garlic pieces.

Store it in an airtight container or a glass bottle.
Nutrition
Nutrition Facts
Ginger Garlic Paste Recipe
Amount Per Serving
Calories 200
* Percent Daily Values are based on a 2000 calorie diet.