Methi Paratha Recipe is a punjabi paratha recipe and also popular across North Indian regions.
Also check out more punjabi recipes:
This methi paratha is used by making use of fresh methi leaves or fenugreek leaves and chapati dough.
Also check out other paratha recipes and roti recipes for breakfast like beetroot paratha , egg paratha , aloo paratha or potato paratha , soft phulka, soft chapati or chapati recipe etc…
Related Methi Recipes:
Methi Chicken
Methi Gosht
Methi Dal
When we think of parathas they sound to be very complicated but honestly parathas are quite easy if one knows how to make a phulka or chapati or layered rotis.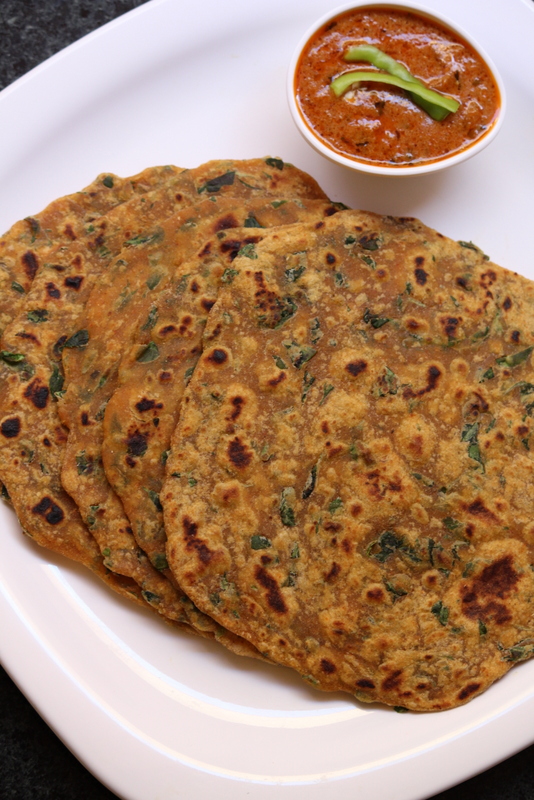 Methi ka paratha here is a punjabi style recipe and I have used fresh methi leaves here but, dried leaves also called as kasuri methi too can be used to make these parathas.
Methi recipes are so healthy and one should include methi leaves in any form in diet and try out methi recipes such as methi roti, methi paratha, methi thepla etc for breakfast recipes… Methi is best for those suffering from diabetes.
Methi is a rarely used green leafy vegetable and it is generally used for toppings and not as a main ingredient but, methi should be made in every form be it in rice or curry form.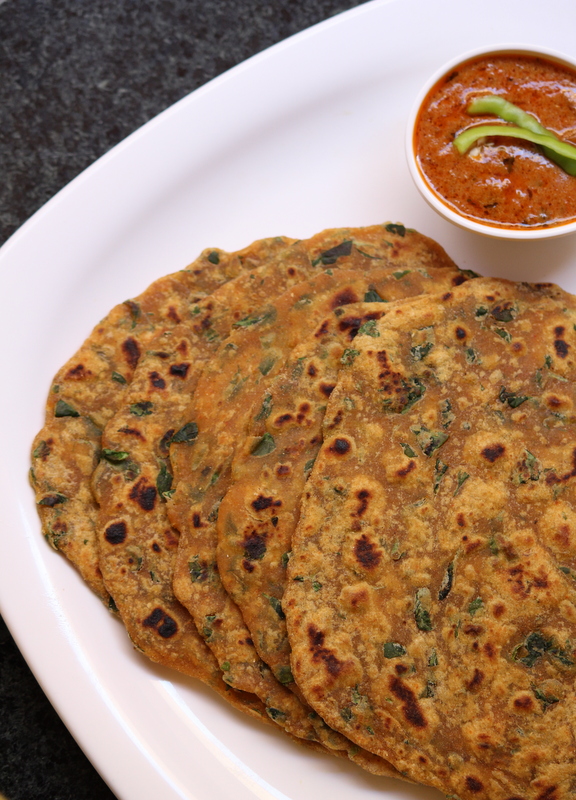 Methi lifts up the flavors of the dishes when combined with vegetables like aloo and matar etc…
The fragrance that it gives out is absolutely amazing. The methi leaves have been used in methi paratha and few spices have been added into it.
Here I have used atta or wheat flour and added methi leaves and few spices to the dough to make this wonderful recipe…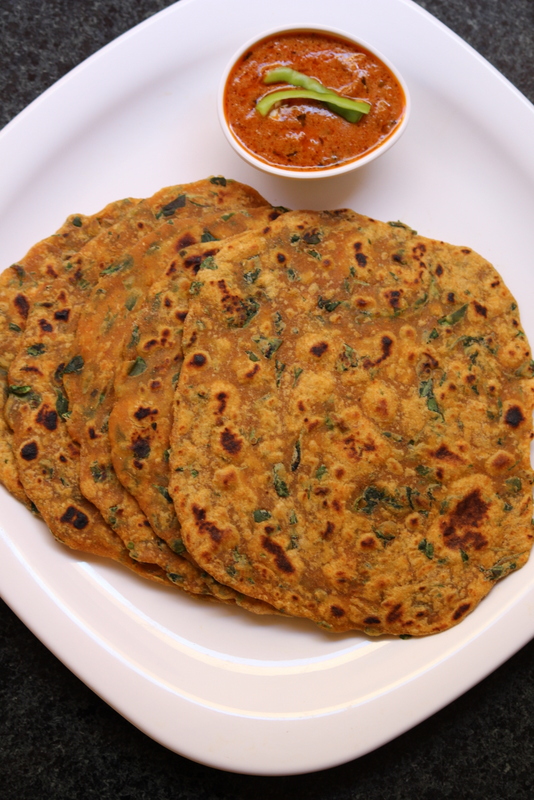 Parathas are commonly made in north india and different people follow different technique to make them. Stuffed parathas are best as they contain healthy vegetables too as the stuffing…
They are perfect for breakfasts too and the side dishes that go with paranthas are curries, raita etc…or can be eaten plain…
Parathas that are made with palak or methi do not take much time and are made as quick as a chapathi or roti…
Do check the recipe details on how to make methi paratha recipe in punjabi style…
Methi paratha recipe punjabi method below: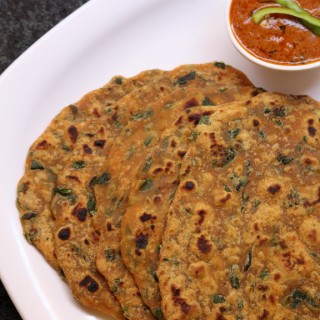 Methi Paratha Recipe Punjabi
An Indian flatbread made using methi leaves and dough....
Print
Pin
Rate
Ingredients
8

tbsp

wheat flour

1

bunch freshly and finely chopped methi leaves

or kasuri methi

1

tbsp

coriander leaves

salt - to taste

1/2

tsp

red chilli powder

1/2

tsp

turmeric powder

1/2

tsp

ginger garlic paste

1/2

tsp

green chillies

1/2

tsp

roasted coriander seeds powder

1/2

tsp

carom seeds

ajwain

1

tsp

oil

water to make dough
Instructions
Firstly, take a mixing bowl, into it, add wheat flour into it.

Add methi leaves into it, add coriander leaves and mix them with a spatula.

Add salt, red chilli powder, turmeric powder, coriander seeds powder, ginger garlic paste, carom seeds(ajwain).

Add green chillies into it and oil.

Mix everything well.

Gradually add water and knead into a smooth dough.

Rest aside for 15-20 minutes.

Divide the dough into small/medium size portions.

Take a small/medium portion of the dough.

Take a rolling board and dust some flour on it.

Roll the dough like a circular chapathi.

Heat the tawa and place the paratha on it.

Cook the down side of the methi paratha on medium flame for few seconds.

Flip the paratha and oil/ghee all over the roti.

Flip it again and apply oil on the other side.

Flip and press the roti well on all sides with a spatula.

Similarly press paratha on the other side and cook well.

Serve it hot with any vegetable gravy or curry.

Continue making parathas with the rest of the dough portions and serve hot!!!
Notes
1. Do not get confused with the flipping of paratha and just cook the paratha well on both the sides in a way similar to cooking roti...
2.Garam masala powder, cumin seeds powder too can be added before kneading for a spicy flavor.
Nutrition
Want To Watch Video Recipes?
SUBSCRIBE US ON YOUTUBE!