Chicken biryani in cooker, a special biryani rice recipe made using chicken and the technique that I have used here is a pressure cooker one.
Making chicken biryani in pressure cooker is easy but we need to follow few tips to get an amazing biryani that does not turn out soggy and also gives us a delicious taste.
If one is looking for chicken recipes using rice then one should never skip this blog without checking out chicken fried rice which is the best fried rice recipe and something better than the restaurant style of rice recipe.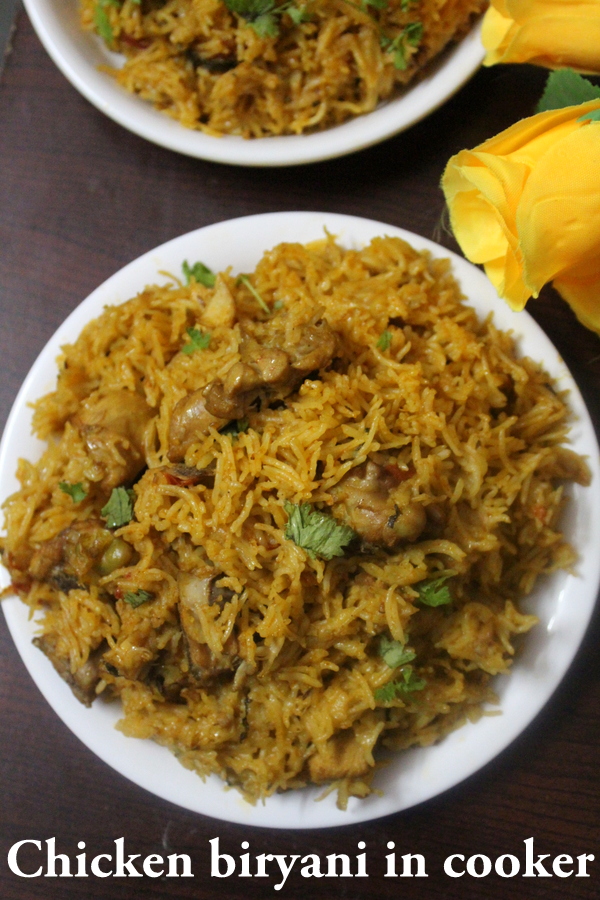 Surprisingly, I have posted many biryani related recipes on the blog in both vegetarian and non vegetarian areas and some of the biryani recipes in non veg section are chicken dum biryani, chicken biryani recipe etc...
I would like my viewers to try out these recipes and do share us your opinions and views on these recipes...
I have made pressure cooker biryani recipes several times and they can be prepared quickly, instantly and with ease.
Of course, dum style of biryani recipes are the best but this way of making pressure cooker biryani too is a great option when one is in a hurry and would like to pack something interesting for their lunch boxes.
Making dum method biryani does take time and one can make them only during special occasions, functions and gatherings.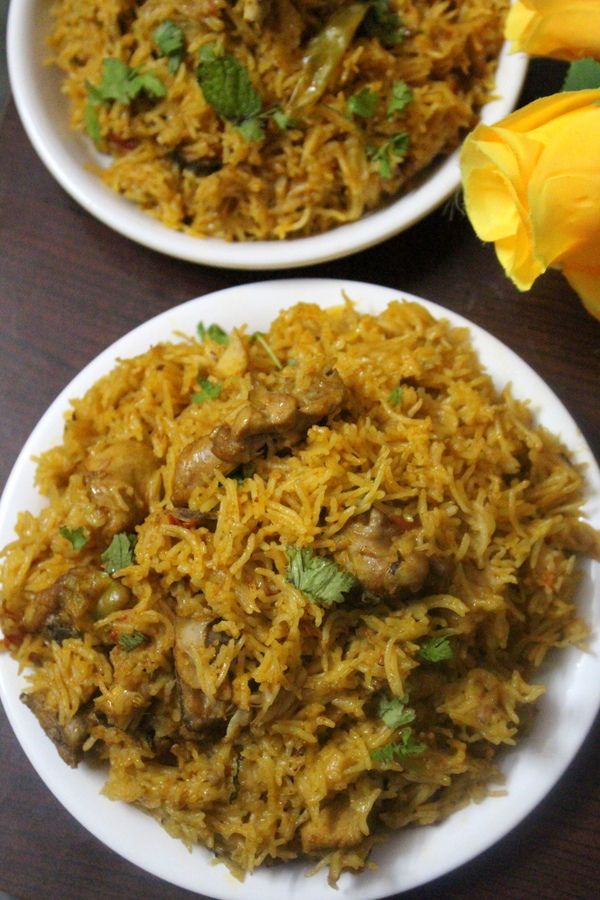 This kind of biryani can be made anytime that is for lunch or dinner and can easily be served with raita .
However, there are few tips to be followed while making these biryani recipes in cooker and mainly the tips are connected to kind of rice and quantity of water one is supposed to use in given proportion.
Follow the below instructions carefully:
If we use aged basmati rice: 
If one uses aged basmati rice to make biryani in pressure cooker, then soaking of the rice for atleast 20 minutes before using is a better option.
When we are using aged basmati rice the quantity of rice and water should be in 1:2 ratio. That is if we use 1 cup of rice then we need to use 2 cups of water.
If there is some water in the gravy then, we have to reduce one cup water while adding water.
In this recipe I have used 3 cups rice and 5 cups water that is because there is already around 1 cup water in the gravy so I have made it as 5 cups water instead of 6 cups water.
If using freshly manufactured basmati rice:
Do not soak the rice, directly wash and add the rice and regarding water usage, for 2 cups rice add 2.5 to 3 cups of water.
If sona masoori rice is used/ normal rice:
We do not need to soak the rice and even if soaked, it has to be soaked for not more than 10 minutes.
For aged sona masoori rice maintain the ratio of rice and water as 1:2 that is for 1 cup rice, add 2 cups of water.
For freshly manufactured rice maintain the rice and water ratio to 1:0.5 that is for 1 cup rice, add ½ cup water.
If there is water in the gravy adjust water as per requirement and also keeping in mind kind of rice is used that is aged/old or freshly manufactured rice...
If we keep the above things in mind pressure cooker biryani never turns soggy.
However, it is not necessary to make biryani with basmati rice always, It turns out equally good with ordinary rice as well.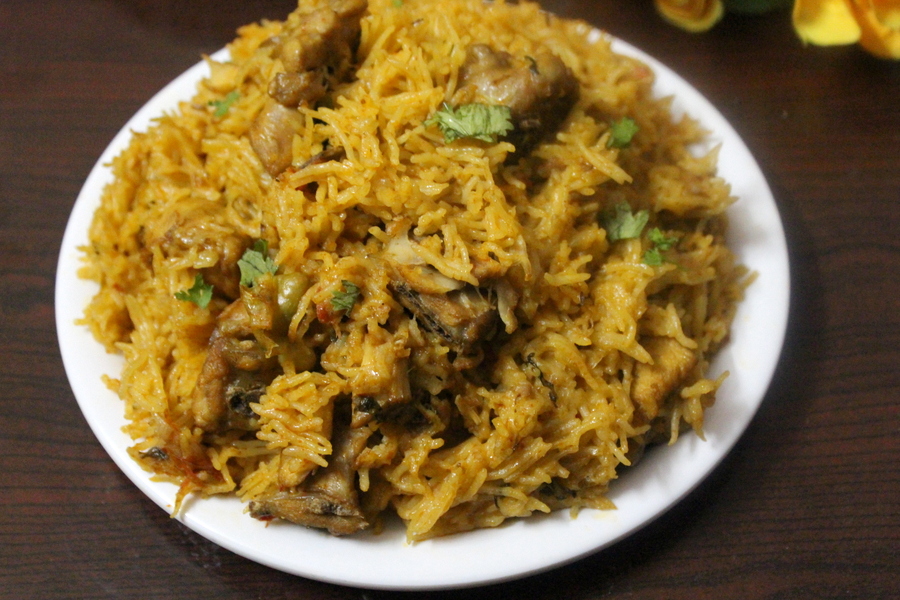 Here, the biryani is made in normal south indian style method that is I have made use of onions, tomatoes and yogurt to make the chicken biryani in cooker.
I have made the gravy using onions, tomatoes, curd and then mixed the soaked rice into the gravy, added water and pressure cooked using aromatic spices and green herbs.
Below is the recipe on how to make easy chicken biryani in cooker recipe using pressure cooker method with step by step details.
Here, I have used a branded basmati rice and one need not worry if this rice is not handy. This biryani can be tried using ordinary rice too...
I highly suggest you to not get confused and use ordinary rice that is available at home and make amazing biryani and I personally prefer to make pressure cooker biryani using normal rice regularly but today for the video I am using basmati rice and made this chicken biryani in cooker...
Very soon I shall be uploading the video of making chicken biryani in cooker...
Chicken biryani in cooker or easy chicken biryani recipe: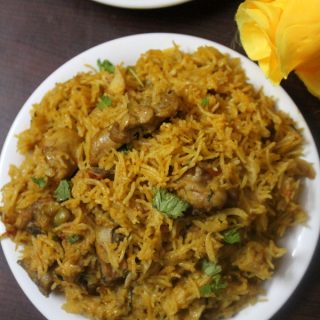 chicken biryani in cooker, easy chicken biryani recipe
A hyderabadi style of making chicken biryani instantly in pressure cooker.
Ingredients  
750

gms chicken

cleaned and washed well

5

tbsp

oil

whole garam masala

1 small cinnamon stick, 3-4 cloves, 2 cardamoms

½

tsp

shahi zeera

4-5

slit green chillies

4

large onions

finely sliced

1

tbsp

ginger garlic paste

salt to taste

1

tsp

red chilli powder

½

tsp

turmeric powder

haldi

4 to

matoes

chopped into pieces

1

cup

yogurt/curd/dahi

3

tbsp

chopped coriander leaves

6-7

mint leaves

½

tsp

garam masala powder

½

tsp

black pepper corn powder

5

cups

water

3

cups

basmati rice / 650 gms approx...

using aged rice helps the biryani to turn out well

salt as per taste is needed again
Instructions 
Step 1:
Clean the chicken well and wash it well with haldi, salt and water.
Step 2:
Wash the basmati rice, soak it for about 20-25 minutes before using.
Step 3:
Take a heavy bottom pressure cooker, add oil and heat it.

Add whole garam masala such as cloves, cardamoms, cinnamon and shahi zeera, saute well.

Add slit green chillies, saute well.

Add sliced onions and saute until onions turn slight brown.

Add ginger garlic paste and saute for few minutes to get rid of raw smell.

Add the cleaned and washed chicken into the cooker, mix well.

Roast the chicken for few minutes and keep stirring in between.

Roast the chicken until it changes its color.

Add salt as per taste, red chilli powder, turmeric powder, mix well.

Cook this masala for few minutes on low flame and until oil starts leaving the sides.

Add the chopped tomatoes, mix well and cook until the tomatoes get soft.

Whisk or beat the yogurt well and add into the chicken.

Mix all the ingredients well.

Cook this chicken gravy for 4-5 minutes on low flame.

Add the garam masala powder, kali mirch powder, coriander leaves, mint leaves, mix well.

Add 5 cups of water since there is already around 1 cup of water present in the curry.

Add the soaked basmati rice into it.

Mix everything well.

At this step, add salt as per requirement, taste it and add more if required.

Mix up everything.

Cover the lid of the pressure cooker.

Pressure cook the biryani for 4-5 whistles on high flame.

Reduce the steam completely.

Carefully remove the lid of the pressure cooker.

Check the biryani and allow it to cool down.

Serve the biryani.

Enjoy it with raita.
Video
Notes
Important points:
I have used aged/old basmati rice.
 Sometimes, if the basmati rice is not aged/old, the rice turns out soggy. In such cases do not soak the basmati rice and use it as soon as you wash the rice.
 I highly recommend using aged normal sona masoori rice as we are making pressure cooker biryani and while making these kind of biryani recipes the basmati rice dominates all the flavors of the biryani and just leaves the aroma of basmati rice.
Instead use plain rice which is old and I highly suggest using sona masoori rice for making special rice delicacies...mainly for pressure cooking rice recipes.
 Use a non stick pressure cooker so that the biryani does not burn at the bottom while pressure cooking....
Nutrition
Nutrition Facts
chicken biryani in cooker, easy chicken biryani recipe
Amount Per Serving
Calories 650
* Percent Daily Values are based on a 2000 calorie diet.
WANT TO WATCH VIDEO RECIPES?
SUBSCRIBE US ON YOUTUBE
Have you tried this recipe? If yes, then do write into us below using the comment box on how you made this version of recipe and also give us your suggestions and feedback for us to improve further...