Carrot Juice is definitely a healthy drink and extracting fresh juice out of fresh carrots has lots of nutrition and quite a lot of health benefits. Carrot Juice is packed with many benefits and is a wonderful drink for any age.
Other interesting healthy drinks or juices to be tried are aam panna or aam ka panna, apple juice, lassi punjabi style, pineapple juice, aloe vera juice .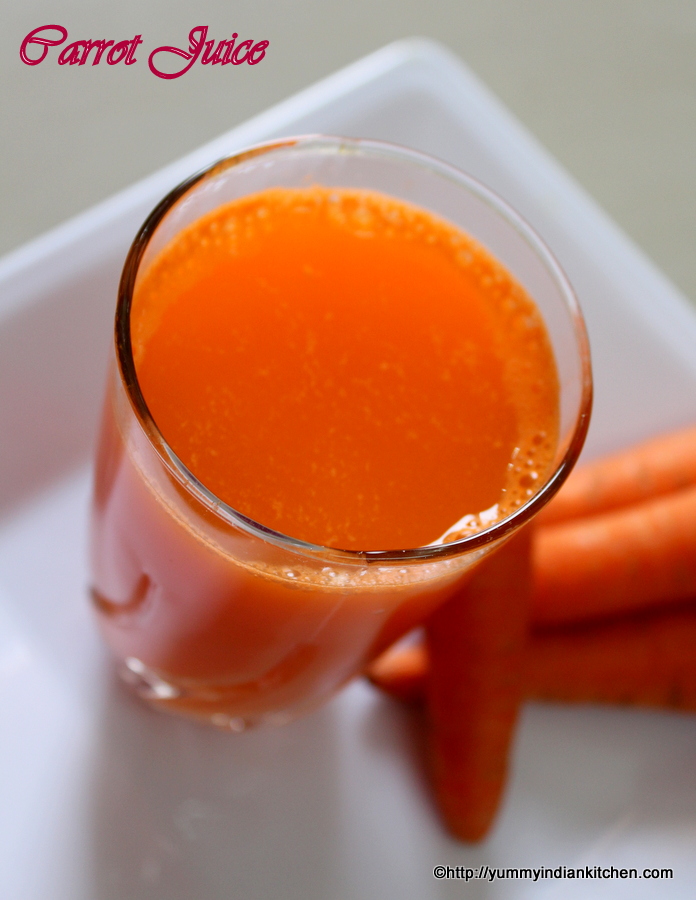 Jump to:
About the recipe
This recipe is simply made by crushing and blending carrots in a blending jar or a juice jar for few minutes with water and then adding sugar/honey as per requirement and serving chilled.
A quick and healthy drink without any efforts.
Benefits of carrots and their uses
The most important benefit of having carrots is it is packed with lots of vitamins such as Vitamin A mainly along with Vitamin B and C.
It contains carotene inside it which a lot helpful for improving vision.
Carrots should always be included in our daily routine diet as a salad or by grating them and eating them or in any way that is suitable to each person.
Not only carrots are good for our overall health but they also benefit the skin of a person. Consuming carrots regularly gives a fresh glow to the skin and makes the skin beautiful.
Carrots also help in preventing heart-related diseases such as heart attacks and also help in controlling blood sugar levels and lowering cholesterol levels.
It also helps in reducing the risk of causing cancer and helps in treating many skin related problems in individuals.
Other healthy drinks on the blog
I have tried my best to post some of the healthy juices or drinks that are difficult to consume but work wonders for our body if taken once in a while such as jeera water, a drink that aids in weight loss, ginger water too aids in losing weight, watermelon juice recipe, lemon water for weight loss etc...which are a great benefit to one and all.
How to make use of Carrots:
Eating plain carrots can be quite boring but using them in the form of a juice or a milkshake gives an interesting feel and a good way to finish the carrots.
There are several other carrot related recipes on the blog like carrot kheer, carrot fry, gajar ka halwa with milkmaid etc...
Carrots can be eaten in different ways like they can be eaten raw or they can be eaten as vegetable curry, salad and there are many varieties that can be tried with this healthy vegetable.
Carrots can be used by making a soup out of it and also combining it with many other veggies and making a soup.
They are also used widely in making vegetable biryani recipes and pulao recipes and a recipe of Hyderabadi veg biryani, veg biryani in cooker, veg fried rice have already been posted on the blog which uses the carrot and other veggies such as beans and potatoes as the main vegetables.
The carrot at home is used to stir fry and eat as a side dish and is also used along with various combinations with other vegetables.
More about this wonder vegetable
Munching a carrot on and off while doing regular day to day work helps in providing good nutrients to our body and also aids in proper digestion and keeps various disorders away.
Also grating it and carrying it in a box to schools and offices also helps quite a lot in finishing it with a spatula and not missing giving good source of vitamin A to our body.
Carrot juices, milkshakes, smoothies and many more recipes are made with this good looking vegetable. All these juices and mainly carrot juice for kids works wonders for their eyes and keeps them fit and filling.
When and why drink it?
This carrot juice recipe is very simple and also takes very little time. It is good to include carrot juice in early mornings or at least once in a while. Drinking healthy drinks cleanses the body and flushes the toxins out from our body.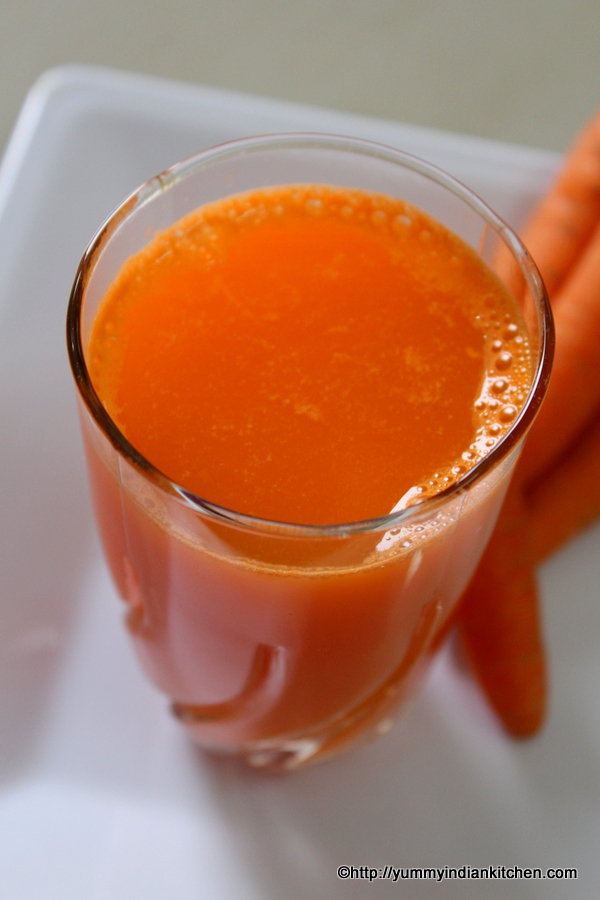 We all are familiar with the health benefits of carrots like they are good for improving our vision, they strengthen our immune system, prevents heart diseases, prevents cancer, it also works wonders for our skin and keeps our skin glowing and gives youthful freshness to our skin.
Carrots and beetroots are wonder vegetables and should be included and made in various ways like I have posted another juice recipe with beetroot that is beetroot juice and should always be tried to use them in different forms and no way these can be a boring vegetable if eaten, made and tried in unique ways.
I shall be glad to include various carrot recipes along with time as I keep updating my blog.
Let us get into the details of making this quick and recommended carrot juice recipe.
Recipe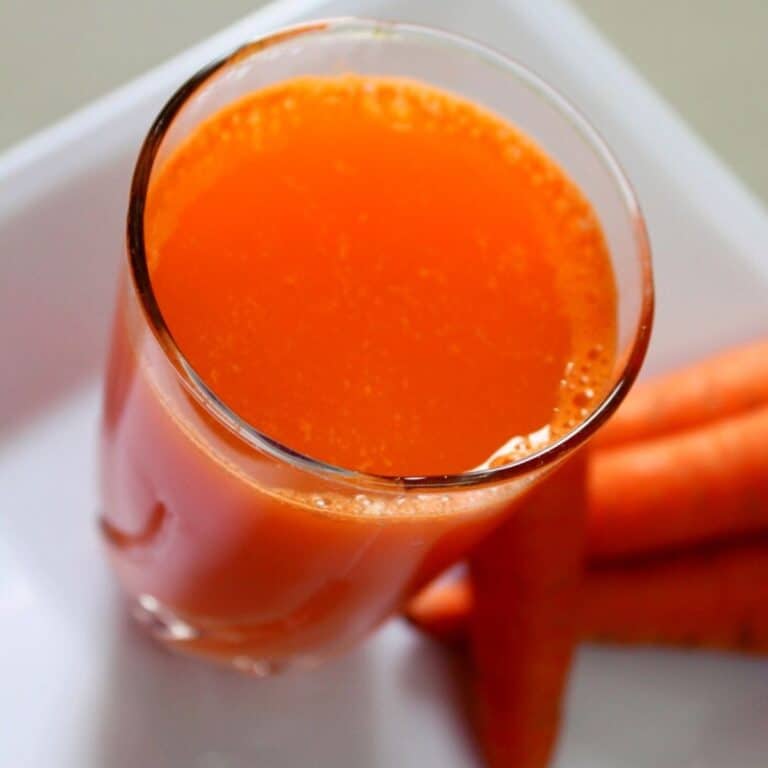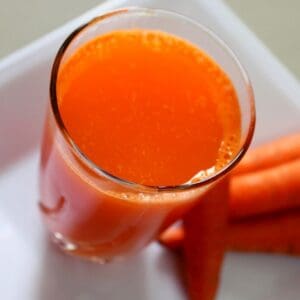 Carrot Juice Recipe Indian Style
A quick and a few ingredient healthy juice recipe made using carrots...
Ingredients
6-8

carrots

3

tablespoon

sugar or as required

2

glasses of chilled water

1

tablespoon

lemon juice
Instructions
Firstly, wash the carrots and peel the carrots with the help of a peeler and chop them into pieces.

In a blender or a juice extractor, add the chopped carrot slices.

Add sugar and add chilled water into the blender.

Blend it into a smooth juice for 2-3 minutes.

Strain the juice completely by mashing the pulp as much as possible and discard the pulp.

Pour the juice into the glasses.

Add lemon drops into it and stir well.

Serve chilled.
Notes
1.Here I have added lemon juice in the end but it can also be replaced with some orange juice that can be mixed with carrot juice.
2.Mixing lemon juice or orange juice with carrot juice gives a very good taste to the plain juice.
3.The quantity of sugar can be increased or reduced as per requirement.
4.Other fruit flavors like apple juice too can be added.
Nutrition
Nutrition Facts
Carrot Juice Recipe Indian Style
Amount Per Serving
Calories 77
Calories from Fat 9
% Daily Value*
Fat 1g2%
Sodium 126mg5%
Potassium 593mg17%
Carbohydrates 18g6%
Protein 2g4%
Vitamin A 30572IU611%
Vitamin C 14mg17%
Calcium 61mg6%
Iron 1mg6%
* Percent Daily Values are based on a 2000 calorie diet.
Faq's
What are the advantages of carrot juice?
The juice is rich in Vitamin A and C. Since it is rich in A Vitamin, it is highly recommended to improve eye health as it is good for the eyes. Consuming this juice regularly too works great for the skin and makes the skin fresh and fair.
What other ways can the carrot be used?
Using it in the form of salad is a good idea as eating carrots regularly either in the form of juice or salad or adding to desserts or garnishing is a healthy option. Peel them and chop into small pieces or grate and use them to eat during the daytime.
Can I drink this juice everyday?
Using it daily is optional but making it a regular habit to consume freshly made juice is always a healthy habit.